Update:

Police: Semi truck rolled over on I-94 in Ann Arbor after SUV hit it

Posted on Mon, Apr 23, 2012 : 3:49 p.m.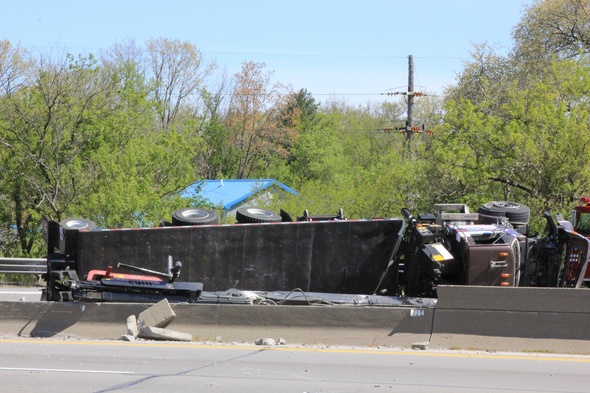 A semi truck rolled over onto its side after it was hit by an SUV whose driver was attempting to pass it on the right Monday morning, police said.
Sgt. Mark Thompson, of the Michigan State Police, said the semi truck was heading east on Interstate 94 at Jackson Road in the left lane and was being passed by the Ford Explorer, which was in the right lane. The vehicles were coming up to the entrance ramp when a box truck was entering the freeway, Thompson said.
The driver of the SUV moved the vehicle into the left lane and struck the semi truck, causing the driver to lose control of the truck. The semi hit the median wall and crashed through it before rolling over onto its passenger side, Thompson said. The crash happened about 10:50 a.m.
No vehicles traveling west were involved in the accident, according to Thompson.
Huron Valley Ambulance took four people to the University of Michigan Hospital with non-life threatening injuries. The Ann Arbor Fire Department extricated the injured people from their vehicles, Thompson said.
The Ann Arbor Police Department assisted with closing both the eastbound and westbound lanes and directing traffic, Thompson said. The Washtenaw County Road Commission assisted with lane closures and bringing in equipment to help clean up debris from the road, which was back open by about 2:10 p.m. Monday.
Ann Arbor Fire Department Battalion Chief Robert Vogel said four cars were also involved in a fender-bender accident on eastbound I-94 west of Jackson Road. No injuries were reported from that crash.