Posted on
Mon, Mar 11, 2013 : 1:56 p.m.
Semitrailer overturns on U.S. 23 pinning car
By Kyle Feldscher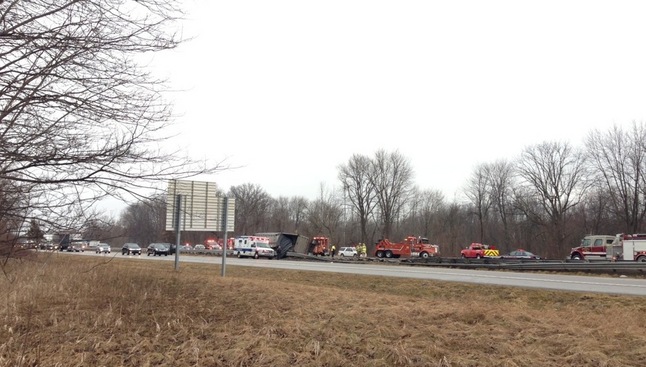 Melanie Maxwell | AnnArbor.com
Editor's note: This article has been updated to reflect the fact that the truck was hauling scrap metal.
Rescue crews worked feverishly Monday afternoon in the pouring rain to right a semitrailer that had overturned on U.S. 23 north of Six Mile Road, pinning a car underneath.
The trailer, the rear section of a double-trailer hauling scraps of metal, had turned over on its side in the median and had spilled part of its load. Michigan State Police confirmed the trailer had turned over onto a car. It had also had crushed two guardrails in the median of the freeway.
Crews had attached cables to the truck and had managed to right the trailer by about 2 p.m. By about 2:20 p.m., rescuers had cut away part of the car and covered it up with a sheet or tarp. One Northfield Township fire unit was leaving the scene.
Huron Valley Ambulance spokeswoman Joyce Williams said it was not immediately clear how many people were in the car.
The Washtenaw County Technical Rescue Team, of which HVA is a part was at the scene attempting the rescue, Williams said.
Traffic backed up on the freeway in both directions near the accident scene. The southbound lanes of the freeway were closed between Six Mile and Eight Mile roads. Emergency officials advised motorists to avoid the area. Reports indicated other crashes had occurred in the northbound lanes of the freeway near the accident scene.

View U.S. 23 crash 031113 in a larger map