Posted on
Wed, Jun 15, 2011 : 11:54 a.m.
Sen. Rebekah Warren co-sponsoring legislation to form regional transit authority in Southeast Michigan
By Ryan J. Stanton
State Sen. Rebekah Warren, D-Ann Arbor, joined today in announcing the introduction of a three-bill package to create a regional transit authority in Southeast Michigan.
Of the 41 largest metropolitan areas in the nation, the Metro Detroit region is the only one lacking a so-called RTA, Warren and other sponsors of the legislation said.
Without such a regional transit service, Warren said, Michigan is losing out on additional federal transit funds, making it a "donor state."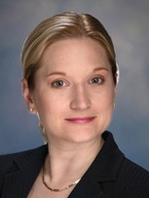 "Simply put, our tax dollars are financing economic investment in other states," Warren said. "Studies show that for every dollar invested in mass transit, $4 to $8 is returned in economic development. We've missed out on this activity for far too long."
The legislation has bipartisan support with Sen. Bert Johnson, D-Detroit, and Tom Casperson, R-Escanaba, joining as co-sponsors.
The legislation's sponsors say an RTA would open the door for increased trade and accessibility throughout the Metro Detroit region, furthering efforts to develop an efficient high-speed rail line going from Detroit through Ann Arbor to Chicago.
The RTA wouldn't initially include Washtenaw County, instead encompassing Wayne, Oakland and Macomb counties. But the legislation leaves open the possibility that other counties could join by petitioning the authority to become part of the public transit region with approval by the county's governing body.
"So for us locally, there is much future potential once the Detroit Metropolitan area creates the authority," Warren said.
Ann Arbor Mayor John Hieftje reacted positively to the news that efforts are under way to create an RTA. He said the idea has come up in talks over the years and he sees it as an advantage as the city works with regional partners to push for not only high-speed rail between Detroit and Chicago, but also a commuter rail service between Ann Arbor and Detroit.
"These are exciting times for rail in Southeast Michigan and anything we can do to enhance the effort would be appreciated," Hieftje said, adding there's about $360 million in federal rail money on its way to Michigan already, and much of that is being spent in Southeast Michigan.
Ann Arbor also has plans for a transit center that could cost $121 million and include a full-service train station and bus station, along Fuller Road in front of the University of Michigan medical campus. The city has received $2.8 million in federal funds toward the project so far.
Jesse Bernstein, chairman of the Ann Arbor Transportation Authority, said it's too early to say what impact the creation of an RTA might have on AATA's plans to expand and become the countywide transit authority for all of Washtenaw County.
"I think a regional transit authority is long overdue," said Terri Blackmore, executive director of the Washtenaw Area Transportation Study, a multi-jurisdictional agency responsible for transportation planning in Washtenaw County.
"What I think what's really important about this is right now there's two different providers in those areas and there's not really equity in how the funding is distributed," she said, referring to the Detroit Department of Transportation and SMART.
Blackmore added that even if Washtenaw County doesn't become part of the RTA, it would make planning and implementing transit services for the region more efficient to have one authority representing Wayne, Oakland and Macomb counties.
The RTA legislation is seen as a complement to Johnson's previous transit project, the soon-to-be built M-1 Woodward light rail line in Detroit.
"Creating an RTA in Southeast Michigan would be an economic boon for the entire region," Johnson said. "As we've seen elsewhere around the country, fast, efficient public transit is a catalyst for economic development and revitalization of a community."
Casperson, the senator from Escanaba who chairs the Senate Transportation Committee, said he looks forward to working with Johnson and Warren to implement legislation that will permit a "dynamic regional transit service" to prosper in Southeast Michigan. He said it would provide substantial economic and social opportunities and benefits to the entire state.
"Although the Upper Peninsula and Southeast Michigan are separated by many miles, all of Michigan is united in its desire for the region to prosper," he said. "A robust transit service that effectively and efficiently serves Detroit and Southeast Michigan will serve as a critical tool to move the region forward."
The three bills are Senate Bills 443, 444 and 445.
"We're very pleased that the Republican chair of the Transportation Committee is the lead sponsor of one of the bills in the package and a co-sponsor of all the other bills," Warren said. "We are hopeful it will have a hearing in Senate Transportation in the near future."
Ryan J. Stanton covers government and politics for AnnArbor.com. Reach him at ryanstanton@annarbor.com or 734-623-2529. You also can follow him on Twitter or subscribe to AnnArbor.com's e-mail newsletters.