Posted on
Thu, Aug 16, 2012 : 2:59 p.m.
Ann Arbor makes it official with swearing in of new police chief
By John Counts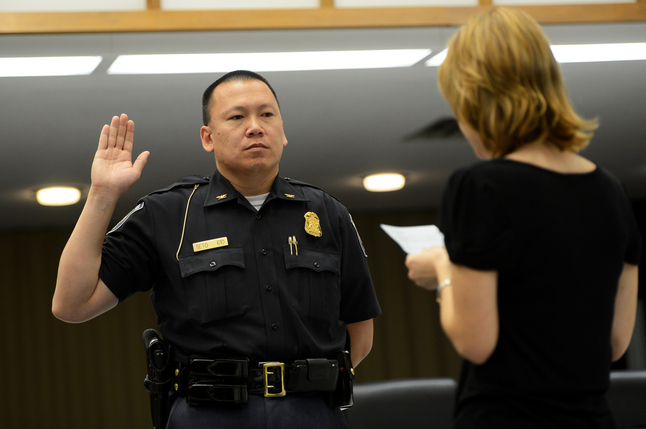 Melanie Maxwell | AnnArbor.com
It's official.
Six months after being appointed to the position in an interim capacity, John Seto was sworn in as the chief of the Ann Arbor Police Department at a jubilant ceremony in council chambers Thursday.
In July, City Administrator Steve Powers picked and City Council confirmed Seto, who will be the first chief to rise up through the ranks of the department to attain that position in decades.
At Friday's ceremony, Powers said support for Seto was overwhelming across the board.
"It was strong from … law enforcement," he said, adding the community was equally supportive. "I have been very impressed with his integrity, his competence and his vision …"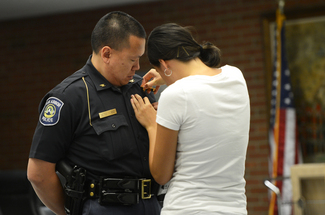 Surrounded by a standing-room only crowd, Seto invited his two children, Katie and Chris, to pin the badge on him.
"This is not about me. It's about all of us and the offices that we hold," he said. "I want to make sure we maintain that great and rich tradition we have in the police department."
Seto said he wouldn't be in the position he is today without the help and support of that department.
"You have raised me. You have mentored me. You have shaped me into the person I am today. I thank you for that," he told the crowd, which included many members of not only the Ann Arbor Police Department, but law enforcement agencies from all across the county.
Seto's first official act as chief was to preside over a ceremony honoring two retiring members of the department, Officer Dawn King and Detective Bernard Tucker.
Both had served 25 years.
King was a district coordinator and was involved in the DARE and Adopt a Family programs.
"She has touched the lives of many children in this community," Seto said.
The well-being of animals was also one of her passions.
Tucker started in the department as an undercover officer in drug-related work. He retires from the detective bureau where he worked on the Special Victims Unit, which handled sexual assaults and juvenile issues.
"Those are the toughest cases you have to handle," Seto said. "Tuck has handled a lot of very difficult and emotional cases involving young children."
John Counts covers cops and courts for AnnArbor.com. He can be reached at johncounts@annarbor.com or you can follow him on Twitter.