Posted on
Wed, Sep 14, 2011 : 3:50 p.m.
Sexual assault near Old West Side chips away at sense of security in 'peaceful' Ann Arbor neighborhood
By Kyle Feldscher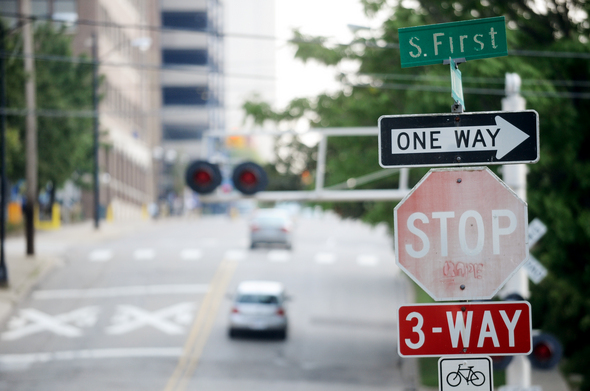 Melanie Maxwell | AnnArbor.com
Previous story: Police chief: Ann Arbor sex assault could be related to 6 previous attacks
The 400 block of South First Street is a fairly quiet, residential area on the edge of Ann Arbor's downtown that has been described as one of the safest areas of the city.
Early Tuesday morning that sense of security took a hit when a 20-year-old woman was attacked and fondled by an unknown man — an incident police say could be related to 6 previous attacks during the summer.
Ann Arbor City Council Member Mike Anglin, 5th Ward, said the sense of safety in the community may be giving residents a reason to be less alert for potential crime.
"Because we have such a peaceful community, people are less alert to the environment around them and they're more trusting of the environment," Anglin said. "With a down economy, we are going to have more crime increases, it's just a nature thing. But this is really a crime of violence against people … I'm sorry to hear this happened."
Ann Arbor has become the focus of national attention during the past 2 months after the city saw a rash of sexual assaults in July.
With the latest attack, the random attacks move from the area near the University of Michigan's central campus to the western edge of downtown.
Carsten Hohnke, the other council member from Ann Arbor's 5th Ward, said Wednesday morning he had not heard the news of the latest sexual assault, but he was "disappointed to hear about this."
Despite the continued attacks, there's an air of confidence coming from City Hall that the predator, or predators, will be caught.
Mayor John Hieftje said he's been in frequent communication with police Chief Barnett Jones, meeting with him every Wednesday and getting updates on police activity during the periods between.
Hieftje said he's satisfied with the police response to the sexual assaults and urged citizens to take precautions when out at night.
"There's a perpetrator in our community and the person is going to be caught. Just be careful in the meantime," Hieftje said.
The area where the reported assault took place on South First, south of West William, is a mainly residential area, not far from Doughty Montessori School, where children were playing Wednesday morning. Nearby is a city parking lot and the Liberty Lofts condominiums.
There were a number of people walking to and from downtown Ann Arbor Wednesday, but the hustle and bustle of downtown and the U-M campus isn't nearly as evident as some of the other areas where attacks occurred earlier this summer.
Evelyn Adkins, a University of Michigan student who lives on the Old West Side, said she found out about the most recent sexual assault through a crime alert issued by the university. While it's worrying that there have been so many sexual assaults reported in the past couple months, she said, it's something that can be expected in a university town.
"In general, I feel like this is a very safe neighborhood. But things like this do happen, so I'm always very careful when I walk around, especially late at night," Adkins said.
Adkins wasn't in Ann Arbor during the summer and she returned to the area when school began earlier this month. She said she was aware of the attacks reported during the summer and has been taking precautions to protect herself when walking at night.
"It's alarming that there have been so many of them, but at the same time when you have this many people in a downtown area, you just have to keep an eye out for it," she said.
It was a sentiment echoed by Hieftje, who said Ann Arbor saw a violent string of sexual assaults in the 1990s. While it's the belief of many in Ann Arbor that they should be safe walking around city streets late at night, Hieftje said it's rare to be in a town where that much safety is a reality.
"We urge people, particularly women, to be more careful," he said. "If you step back from it, there aren't many communities where you expect to walk around after midnight and be safe without other people. We're just asking people to take the normal precautions you would take in any other city."
The sexual assaults in Ann Arbor have been a talking point for residents in the 5th Ward and have even caused some people in the area to adjust their socializing patterns, Anglin said.
He said there was a woman similar in age to others attacked this summer at the First Street Garden Inn, a bed and breakfast he owns with his wife, who told him that she left downtown before dark because she simply didn't feel comfortable in the area.
Anglin encouraged residents in the city to keep an eye out for any suspicious behavior and to notify police if anything doesn't seem right. He said it was sad to see the reputation of Ann Arbor come under fire as the sexual assaults continue, but the best way for citizens to help out was to be a good neighbor.
"You're not being paranoid, you're just being attentive to your surroundings and that's what a good citizen should be," he said.
This story has been updated with comments from Mayor John Hieftje
Kyle Feldscher covers cops and courts for AnnArbor.com. He can be reached at kylefeldscher@annarbor.com or you can follow him on Twitter.