Posted on
Wed, Jan 23, 2013 : 5:59 a.m.
Sheriff to Ann Arbor officials: Merger of 911 dispatch operations saving money
By Ryan J. Stanton
A new report shows Ann Arbor taxpayers are paying less than half the price per 911 call now that the city has merged police dispatch operations with the Washtenaw County Sheriff's Office.
During a report on the first six months since the merger of the city and county dispatch centers, Sheriff Jerry Clayton told Ann Arbor City Council members Tuesday night the city's costs per 911 call have dropped from $39.63 to $15.81, while overall Metro Dispatch costs per call are $17.94.
Dispatch duties are being handled by a new and leaner staff, and city officials agreed with the sheriff it seems to be working out as they hoped.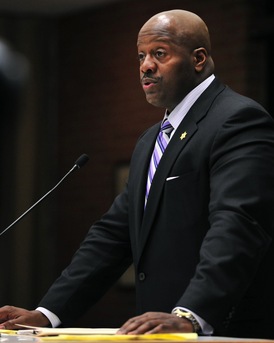 Ryan J. Stanton | AnnArbor.com file photo
"The cooperation with the county, specifically with Sheriff Clayton, has realized financial benefits already for the city," said City Administrator
Steve Powers
, noting the merger helps the city qualify for state funding and generates savings the city has used to maintain police staffing levels.
It's been projected the city will save at least $400,000 annually from the agreement, and Clayton indicated Tuesday night the new dispatch operation is hitting its financial targets.
Clayton said the staff includes one manager, three supervisors, 20 full-time dispatchers and eight part-time call takers.
He said there are nine more dispatcher positions to fill (five now in training) and eight part-time call taker positions to fill (two now in training).
The county has made a significant investment in hiring the right people and providing them with the best training available, Clayton said.
New hires receive 196 hours of academy classroom training and a minimum of 10 weeks of on-the-job training. The average time to fully train new employees is five to six months.
Added up, Clayton said, training-related costs over the past year total more than $280,000, while other hiring-related costs come to more than $123,000.
Clayton offered a review of the dispatch budget for calendar year 2012, showing actual costs are expected to come in under $3.2 million after more than $3.6 million was budgeted.
Dispatch employees clocked a total of 6,749 hours of overtime for 2012, which represented 11.3 percent of all hours worked.
The Sheriff's Office assumed full responsibility for Ann Arbor police dispatch services in July. Statistics for the first six months of operation show there was a total of 88,277 emergency 911 calls to Metro Dispatch, including 24,010 dispatched to the Ann Arbor Police Department.
For Ann Arbor's purposes, that's almost exactly the same number of 911 calls as the 24,251 reported for the same six-month period in 2011.
About 86 percent of emergency calls were answered by dispatchers within 10 seconds, while another 11 percent were answered within 20 seconds. The national standard is that 95 percent of all 911 calls should be answered within four rings or 20 seconds, so the standard is being met.
Reports show there were 31,598 total incidents dispatched to AAPD from July to December, including non-emergencies, and the average dispatch time was 11.17 minutes.
Ambulance requests took 3.13 minutes on average, burglary alarms took 2.87 minutes, disorderly conduct incidents took 5.16 minutes, domestic violence incidents took 4.51 minutes, fights took 2.11 minutes, robberies took 2.2 minutes and traffic accidents with injuries took 4.02 minutes.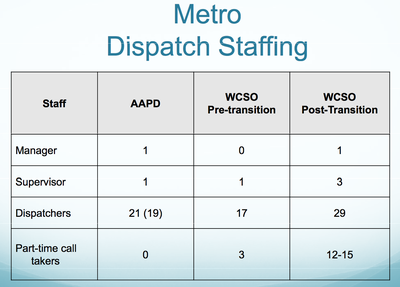 Metro Dispatch
Dispatch representatives explained the length of time is based on available resources in the field, and the stated figures include both emergency and non-emergency calls.
There were 78 reported complaints about how calls were handled during the first six months, and 47 of those were found to have merit.
The complaints had to do with everything from data entry errors to notifying the wrong wrecker company requested for a tow to not sending the closest police car to a call.
Clayton said any complaint about service is one too many, but he's pleased with where the numbers are for now and he expects them to trend downward.
"We achieved these numbers in the midst of a full integration — training, hiring folks, people coming over from Ann Arbor, staying, not staying, bringing in new people," he noted. "We have a significant number of dispatchers and call takers who have never done the job."
Clayton said nobody was capturing the kind of data about dispatch operations like the county is doing now, so there are no comparable metrics. He said the first six months worth of operational data establishes a good benchmark going forward.
Spring Tremaine, a former AAPD lieutenant who oversaw the city's dispatch center, has moved into a managerial role in the county-run dispatch center.
Council Member Stephen Kunselman, D-3rd Ward, asked what's happening from a dispatch perspective when someone calls 911 while on the University of Michigan campus.
"We're improving on this all the time," Tremaine said, noting more than half the dispatch staff is brand-new and they don't know the campus boundaries very well yet.
"We are in a constant state of trying to train them," she said. "We've had some problems where we show up at calls that are not ours and that type of thing."
Tremaine said dispatch staff has met with the information technology department to try to improve the mapping so call takers can easily determine if a call is coming from U-M property.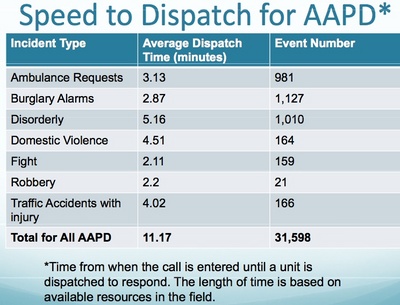 Metro Dispatch
Clayton said there has been discussion around a unified countywide dispatch system for many years, and for a variety of reasons that never came to pass. The city and county have had co-located dispatch operations since spring 2010 but they remained separate operationally until last July.
"We knew this was going to be a tremendous challenge for a variety of reasons," Clayton said. "Although they were under the same roof, they were two separate operations, two separate cultures, two separate sets of policies, beliefs — a number of things that were challenges."
Council members offered thanks to Clayton for a job well done. Mayor John Hieftje recalled there was a process in the late 1990s that would have done exactly what the city and county are doing now.
"And that went on for three or four years, then the plug was pulled on that process … with some hard feelings at different agencies," he said. "It's taken a while to get where we are."
Ryan J. Stanton covers government and politics for AnnArbor.com. Reach him at ryanstanton@annarbor.com or 734-623-2529. You also can follow him on Twitter or subscribe to AnnArbor.com's email newsletters.