Posted on
Wed, Jul 6, 2011 : 2:56 p.m.
Shortfall in Ann Arbor's projected recycling collections has some questioning rewards program
By Ryan J. Stanton
The shortfall in collections under Ann Arbor's new single-stream recycling program — and a failed request for a contractor to receive an additional $107,042 per year to run it — has some city officials weighing a recycling rewards program that's costing up to $200,000 a year.
Others are questioning whether the city has done a good enough job of promoting the RecycleBank rewards program it rolled out in September 2010 after the city's new single-stream recycling program started in July 2010.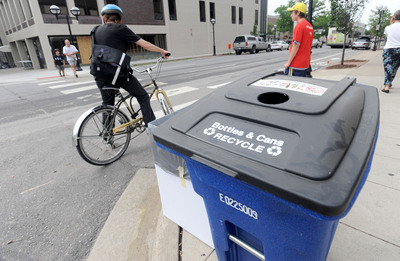 Angela J. Cesere | AnnArbor.com
However, its consultant says the city may need time to reach its goal.
"There is definitely a ramp-up period that is part of this that I think the city needs to take into account," said James Frey, CEO of Ann Arbor-based Resource Recycling Systems.
Resource Recycling Systems was hired by the city as a paid consultant for $102,950 more than a year and a half ago. Its projections — based on information from RecycleBank, which operates recycling rewards programs across the U.S. — proved to be overly optimistic.
The number of tons projected by the city's recycling consultant for fiscal year 2010-11 was 18,425. The actual number is somewhere closer to 10,800 tons, a 40 percent shortfall.
City officials now say Recycle Ann Arbor, the nonprofit organization responsible for curbside collection of recycling carts in Ann Arbor, is hurting financially because of it.
"I don't like to point fingers," said Tom McMurtrie, the city's solid waste coordinator. "It's difficult to point fingers because you could also point at the information that was provided by RecycleBank. I think it's better at this point just to move forward and deal with the situation."
That situation, discussed at Tuesday's council meeting, showed a shortfall in collections, which in turn is impacting revenue for Recycle Ann Arbor.
McMurtrie said the single-stream recycling program has increased recycling tonnages collected in Ann Arbor, but not to the extent that was projected in the business case used to calculate Recycle Ann Arbor's compensation over a year ago.
He said the nonprofit organization received $337,527 less than it expected from its contract with the city this past year.
As a result, the Ann Arbor City Council was asked Tuesday night to consider a contract change to increase the fees it pays to Recycle Ann Arbor. But the proposal to change the per-month tipping fee from $3.25 to $3.55 per cart for four years failed to garner enough support to pass.
Council Members Stephen Kunselman, Carsten Hohnke, Mike Anglin and Sabra Briere joined forces to oppose the increase, which would have boosted Recycle Ann Arbor's pay by an estimated $107,042 annually at current recycling levels.
Sandi Smith and Margie Teall were absent.
Frey said participation — and then revenue — would have increased if the city had rolled out the RecycleBank rewards program at the same time that single-stream recycling started.
RecycleBank is a program that incentivizes recycling by rewarding residents with points that are redeemable at retail outlets, restaurants, pharmacies, grocers and more.
"The city staff, RecycleBank and Recycle Ann Arbor have a considerable amount of work to do to get maximum penetration in the community," he said. "There is some effort that needs to be made for making the program work. You don't just turn the key and make this happen."
Frey said he also doesn't think the city has put the appropriate management time into the single-stream recycling program, nor has it effectively promoted the rewards program.
McMurtrie said about 42 percent of residents have signed up for the RecycleBank rewards program — short of the goal to get 50 percent by the one-year anniversary.
"The projections we developed were based on high participation in the RecycleBank program, so the key metric is to look at what percentage of the population is participating in the RecycleBank program," Frey said. "That would be the question: Why isn't there high participation in the incentive program right now in Ann Arbor?"
McMurtrie said the number of recycling carts deployed as part of the single-stream program is 9.2 percent lower than initial projections that anticipated 32,779 carts being deployed.
The main reason for the lower-than-expected number, McMurtrie said, is that many of the smaller, multi-family residential units that were previously using the 11-gallon recycling totes are able to share recycling carts. In addition, he said, it was discovered there was inadvertent double-counting of some residential units in the original projections.
McMurtrie said those projections were based on per-household generation rates provided by RecycleBank that were from communities that had a much larger percentage of single-family homes than Ann Arbor, which is almost 50 percent multi-family housing.
Briere, one of the four council members who voted against the Recycle Ann Arbor contract change Tuesday night, said she's open to reconsidering her vote, but only if the proposal that comes back to council includes getting rid of the RecycleBank program.
She said it's a matter of dollars and cents, and she thinks the $200,000 contract with RecycleBank to incentivize recycling is "expensive and useless."
"No one I've talked to approves of this, likes it, finds it a benefit, and it's expensive," she said.
McMurtrie said he thinks the program has contributed somewhat to the increase in recycling that's been seen in Ann Arbor. He said the contract with RecycleBank is worth $200,000 a year, but the actual billing rate has been closer to $150,000.
"I think the jury's still out on the program," McMurtrie said. "It would be a little early to cancel the program because we haven't been with it long enough to make an adjustment on the program."
He noted the actual tonnage collected is still a 20 percent increase over the number of tons that were collected in the previous year with two-stream recycling.
The cost to the city — even with a $107,042 boost in fees to Recycle Ann Arbor — still would be $151,443 less than the $1.6 million the city paid to Recycle Ann Arbor in fiscal year 2009-10, the last year of the two-stream recycling program, McMurtrie said.
Briere said she looks forward to the issue coming back to council. Even if none of the four who voted no change their minds on the contract, it could still pass with just one more vote from one of the two council members who were absent from Tuesday's meeting.
"I would expect that staff's going to go back and reassess things and bring this back to the council with some changes because they don't want to do anything to kill Recycle Ann Arbor and neither do members of council," Briere said.
Recycle Ann Arbor started as a volunteer organization in the 1970s, providing monthly curbside collection to a limited number of homes on the Old West Side. It since has grown to a service that provides weekly collection to every home and many businesses within Ann Arbor.
The city amended its curbside collection contract with Recycle Ann Arbor in March 2010. The previous contract paid $19.30 to $102.58 per ton depending on the annual tons, as well as $2.41 per service unit, with a total of 48,886 service units.
With the amendment, the city now pays a revised rate of $18.74 to $30.00 per ton, as well as $3.25 per cart, which replaced the per service unit fee.
Mike Garfield is the executive director of the Ecology Center, which is the parent organization of Recycle Ann Arbor. He said he hopes the contract can be amended again to avoid further financial complications for Recycle Ann Arbor.
"I think the single-stream program's going to take longer to achieve the results people expected," he said. "The real reason that the contract's problematic is because of the mistake on curb carts. That's what's really hurting them and it's kind of a clerical error that caused it."
Ryan J. Stanton covers government and politics for AnnArbor.com. Reach him at ryanstanton@annarbor.com or 734-623-2529. You also can follow him on Twitter or subscribe to AnnArbor.com's e-mail newsletters.