Posted on
Thu, Oct 21, 2010 : 7:29 p.m.
Shots fired during robbery at Bank of America in Ann Arbor, police say
By Amalie Nash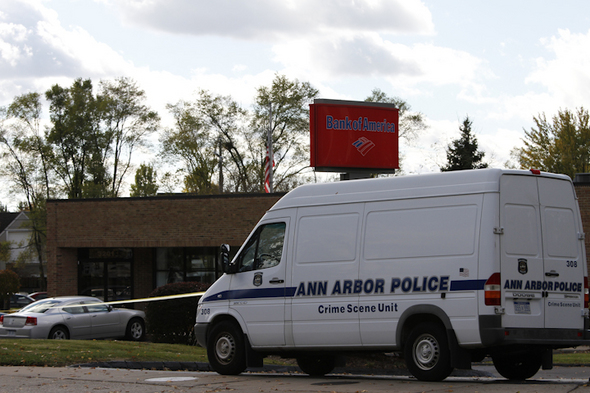 Updated story: Ann Arbor police release surveillance photos of masked gunmen who robbed Bank of America branch
Ann Arbor police are still searching for two men who they say robbed the Bank of America branch at Eisenhower Parkway and Packard Street, firing off several shots toward the tellers inside the bank during the morning heist.
No one was injured in the 10:13 a.m. robbery. Detective Sgt. Pat Hughes said the masked men parked a stolen car in front of the bank, walked in and immediately fired several shots in the general direction of the five or six employees inside.
One customer also was inside the bank at 3201 E. Eisenhower Parkway at the time, he said. One of the robbers jumped over the counter, grabbed money, and the two men fled the scene, leaving the stolen vehicle behind, Hughes said.
They were in and out of the bank in about a minute, Hughes said.
When they fled, the robbers left the rifle behind, Hughes said. Police from multiple departments descended on the area, but the robbers remain at large.
"This was a scary event for everyone involved, obviously the bank employees and the customer inside," Hughes said. "It happened right after 10 a.m. when things are generally quiet. It's really concerning to us that something like this would happen."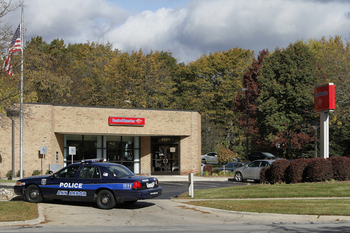 Steve Pepple | AnnArbor.com
Police said the gunmen were described as black men in their 20s, and 5 feet 6 inches to 5 feet 10 inches tall. One was wearing a blue knit mask, gray T-shirt, dark sweatpants and orange and white tennis shoes. The other was wearing a black or gray hoodie pulled up, blue basketball shorts with a white stripe running down the side and cuff, and white tennis shoes.
Hughes declined to say how much money was taken from the bank, but said some of it was recovered. He was not more specific.
The vehicle used was stolen from a Pittsfield Township apartment complex off Washtenaw Avenue late Wednesday, police said.
Numerous schools — five in the Ann Arbor district — were on lockdown near the area for several hours, police said. Those included Tappan Middle School, Stone School, Allen Elementary School, Bryant Elementary School, Pattengill Elementary School, Summers-Knoll, St. Francis of Assisi Catholic School and Hebrew Day School. Students at Pattengill Elementary and Tappan Middle schools who normally walk home were held at the schools for their parents or guardians, while all bus riders went home as normal, the district said.
Ann Arbor police had extra officers in the area of the schools at the end of the day, but no one reported seeing the robbers.
Many local businesses took precautionary measures after hearing about the robbery, with most being alerted by phone calls from outside the office. Ann Arbor Police Lt. Renee Bush said the department used the city's Code Red system, as well as Facebook and Twitter, to alert residents and businesses of the incident.
Mary Foeller, a day care provider about a block away from the scene, said she locked down her facility after being alerted by a parent to the situation. She then received about 17 phone calls about it, she said around noon.
"We were inside because it's cold and then I went outside and my first reaction was to lock down," she said. "If we see anything, we'll go into the basement, but we probably won't see them unless they run by."
Police officers were "all over the place" Foeller said, including a few that parked in her driveway momentarily.
Michael Ryan, pastor at King of Kings Lutheran Church, 2685 Packard Road, was in the church by himself getting ready for a meeting when he received a call from a parishoner. He said he could hear a news helicopter flying overhead and saw police cars.
"They've been robbed once before, and I hadn't heard anything. It's pretty scary that could happen and we could just not know," he said.
The bank was last robbed on Nov. 5, 2009. In that 9:34 a.m. robbery, two masked gunmen held up the bank and robbed it of a large sum of money, police said at the time.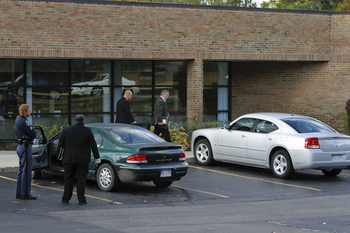 Steve Pepple | AnnArbor.com
Hughes said the two robberies a year apart are similar, but police don't yet know whether they could be connected.
Louis Kennedy, 68, is a member of King of Kings Lutheran Church and said he wasn't too concerned about the robbery.
"It's just a little bit of excitement," he said at the scene. "I think they're desperate, probably druggies. They want money to buy a big car, new TV, who knows — trips to Jamaica? It depends on how much money they get."
Parents alerted Barbara Hutchinson at the Stone School Cooperative Nursery, 2600 Packard St.
"We locked the front door and we're not letting the kids go outside and we're canceling our afternoon class," she said. "We don't have a radio, so we didn't know until parents called in and let us know."
Patrick Firn, 25, rides his bicycle past the bank on almost a daily basis and stopped at the scene today.
"That's crazy," he said. "I'm rather appalled, just on how easily people are robbing stores lately, that jewelry store and now this? Especially Ann Arbor, you don't think that would happen much."

An attempted robbery occurred in the same area early this morning, when two men tried to rob a 20-year-old man at 12:25 a.m. near the intersection of Easy Street and Packard Road.
One man hit the victim on the head, while the other demanded his possessions, Bush said. The victim didn't give them anything and ran.
Hughes said that while the early morning attempted robbery and bank robbery occurred in the same general vicinity, the circumstances are different. But he said he's not ruling out the possibility they could be connected.
Anyone who has information on last week's bank robbery is asked to call Det. Michael Lencioni at 734-794-6930, ext. 49317, the tip line at 734-794-6939 or e-mail tips@a2gov.org.
- Additional reporting by AnnArbor.com's Lee Higgins and Kyle Feldscher.