Posted on
Fri, Apr 22, 2011 : 6 a.m.
Smart growth? Washtenaw County residents asked to chime in on AATA's countywide transit plan
By Ryan J. Stanton
The Ann Arbor Transportation Authority's governing board voted Thursday night to put the agency's "Smart Growth" Transit Master Plan out for additional public input.
A series of five public meetings will be held in mid-May to present the plan and continue a dialogue with Washtenaw County residents.
"A great deal of research, analysis and public input has led to the development of the Smart Growth vision," AATA Board Chairman Jesse Bernstein said in a statement.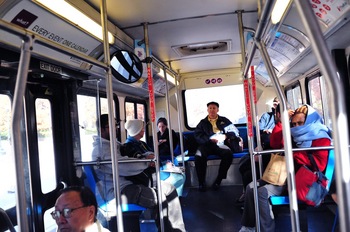 Ryan J. Stanton | AnnArbor.com
"This approach will improve options for traveling throughout the county, making it easier for everyone, including young professionals, commuters, seniors and people with disabilities, to get where they need to go," he said. "The plan will also support economic growth, increase property values, create new jobs, and help protect our environment for the next 30 years."
The $465 million plan to expand transit services countywide over 30 years eventually will have to get past the Washtenaw County Board of Commissioners. And if discussions that took place earlier this month are any indication, that might be a tough hurdle to clear.
The plan also likely will require going to voters next year with a countywide millage request and a complete reorganization of the AATA as a new countywide transit authority
Bernstein said the AATA is aware some people still have questions about the plan, and further public input opportunities will make sure as many people as possible have a chance to take part in the ongoing discussion about Washtenaw County's transit future.
The public meetings will be held from 6-8 p.m. on:
Monday, May 9 — Chelsea Library, McKune Room, 221 S. Main St., Chelsea
Tuesday, May 10 — SPARK East, 215 W. Michigan Ave., Ypsilanti
Wednesday, May 11 — Ann Arbor District Library, Multipurpose Room, 343 S. Fifth Ave., Ann Arbor
Monday, May 16 — Dexter Library, Lower level (large side), 3255 Alpine, Dexter
Tuesday, May 17 — Saline City Hall, 100 N. Harris St., Saline
AATA began developing the Transit Master Plan last summer. Officials said the process involved extensive public outreach, including more than 60 community meetings, workshops with 45 county leaders, more than 200 in-person interviews, and online and paper questionnaires completed by more than 2,500 residents.
The AATA has used community meetings and demographic research to determine residents' transportation needs and to identify long-term goals. Among the challenges outlined are the growing population of aging Baby Boomers, increasing traffic congestion and the growing need among residents without cars for getting to critical destinations.
AATA CEO Michael Ford noted an overwhelming majority of residents who have provided feedback are supportive of the plan. He said the agency continues to take a hard look at the Smart Growth scenario, including funding options and ways to phase it in over 30 years.
"It's important to remember that the Transit Master Plan will never be set in stone — it's more of a vision of where we want to be in 30 years," Ford said in a statement, adding now that the board has voted to accept the plan, next month's public meetings are the next step in carrying forward an ongoing dialogue to hopefully make the plan a reality.
Ryan J. Stanton covers government and politics for AnnArbor.com. Reach him at ryanstanton@annarbor.com or 734-623-2529. You also can follow him on Twitter or subscribe to AnnArbor.com's e-mail newsletters.