Posted on
Thu, Dec 20, 2012 : 2:58 p.m.
Snow coming overnight, but white Christmas unlikely in Ann Arbor
By Cindy Heflin
If you've been dreaming of a white Christmas, you're likely in for some disappointment.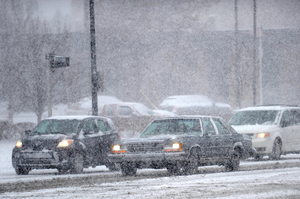 The
Ann Arbor
area will be
getting some snow
overnight Thursday and a little more Friday, the National Weather Service says, but it will only amount to an inch or less and at least some of it is likely to melt over the next few days, leaving a patchy snow cover at best, said Debra Elliott, a meteorologist with the
National Weather Service
in White Lake Township.
After Friday, there's no new snow in the forecast for the next week, Elliott said.
As for the overnight snowfall, it's not going to start until after midnight, Elliott said. Before that we'll have rain. Then some mixed rain and snow is likely between midnight and 1 a.m. before it changes to all snow after 1 a.m. Forecasters expect accumulation of less than half an inch with a low temperature of around 32.
The timing of the snowfall could result in some slippery conditions and possibly blowing snow for the morning rush hour Friday, Elliott said.
Snow showers are likely on Friday with additional accumulation of less than half an inch. A high of about 35 is expected. A northwest wind blowing at 18 to 29 mph will make it feel colder.
Friday night, there'll be a chance of snow showers before 9 p.m. Then it will be cloudy with a low around 24 and winds gusting to 36 mph.
Saturday, it will be mostly sunny and windy with a high near 32 and a west-northwest wind of 13 to 21 mph, with gusts as high as 25 mph.
For updated forecasts and conditions any time, check AnnArbor.com's weather page.