Posted on
Wed, Aug 4, 2010 : 2:02 p.m.
Snyder crossover effect may have helped Jeff Irwin and Rebekah Warren clinch victory on Tuesday
By Ryan J. Stanton
The crossover movement that led many Democrats in Michigan to break tradition and vote for Republican gubernatorial candidate Rick Snyder on Tuesday likely cost a number of moderate Democratic candidates some votes.
That appears to have played out at the top of the ticket in the Democratic gubernatorial primary, where Virg Bernero came out ahead of Andy Dillon by a larger margin than many expected.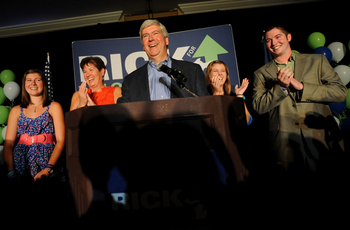 It also may have trickled down to the 53rd District state House race in Ann Arbor, where liberal Democrat Jeff Irwin edged past a more moderate Ned Staebler by 206 votes.
"I think that probably did cost him some votes," Irwin said of moderate Democrats who switched to vote on the GOP ticket so they could support Snyder, a businessman from Ann Arbor whose campaign mantra of creating jobs has appealed to a broad spectrum of voters.
Because Michigan's primary system forces voters to choose between either a Republican or Democratic ticket, those who opted to cross party lines to vote for Snyder couldn't then weigh in on Democratic races.
"I definitely think it had an impact," Irwin said. "And ultimately, the thing you have to realize — and sometimes the politicians forget — is that the voters are really smart. I think Ned's a good guy, and he's a Democrat and a progressive, but he's a little bit more of a conservative flavor of progressive than I am, and I think people saw that."
The Snyder crossover effect also may have given an extra boost to Rebekah Warren, who clinched victory over Pam Byrnes in the 18th District state Senate race. Warren, a liberal Democrat from Ann Arbor, defeated a more moderate Byrnes by 3,574 votes.
Byrnes said she underestimated the Snyder effect.
"It's something that I really didn't take into consideration," she said. "And probably in hindsight, when he was going up in the polls, I think it's something I should have considered a little bit more in how to address that issue."
Michigan watched Tuesday as the more liberal Bernero soundly defeated the more moderate Dillon. Snyder's ability to draw support from moderate Democrats and independents seemingly left a more concentrated pool of traditional, left-leaning Democrats to decide on their party's races, and those voters went for the likes of Bernero, Warren and Irwin.
About twice as many voters statewide participated in the Republican primary than the Democratic primary, which is telling in itself. In Washtenaw County, a near-even mix of Democratic and Republican ballots were cast on Tuesday — which is notable for a traditionally Democratic county that went 70 percent for Barack Obama in 2008.
In Ann Arbor, more than 4,500 people cast Republican ballots on Tuesday, representing about 26 percent of all ballots cast. Compare that to the 17 percent of Ann Arbor voters who went for John McCain in 2008, and it seems evident a higher percentage of voters than normal were leaning Republican.
Snyder found a strong base of support in Washtenaw County, securing about 49 percent of the vote here in the Republican primary. That played to Bernero's advantage on the Democratic ticket, where he picked up about 65 percent of the vote locally.
In addition to the Snyder effect, Byrnes cited as a reason for her defeat recent campaign mailings by the Great Lakes Education Project, a conservative group with Republican backers and ties to Dick DeVos. Without her approval, GLEP put out ads publicly supporting Byrnes in the final weeks of her campaign. Soon after, a series of mysterious robo-calls went out that drew connections between Byrnes and Republicans.
"I know I ran a good campaign," Byrnes said. "I mean, we started walking in April and we walked much of the district three times, and we were fairly confident going into this until the GLEP thing and these robo-calls hijacked my campaign. That's something that was totally out of my control. The robo-calls in the last week were quite significant."
Ryan J. Stanton covers government and politics for AnnArbor.com. Reach him at ryanstanton@annarbor.com or 734-623-2529.