Posted on
Wed, Oct 26, 2011 : 4:06 p.m.
Snyder floats increasing vehicle registration fees as idea to raise $1B for Michigan roads
By Ryan J. Stanton
Gov. Rick Snyder said today he thinks the state should try to find a way to raise an additional $1.4 billion in revenue for roads and bridges in Michigan.
One of the ways to do that, he said, is by increasing state registration fees by $10 per month on the average passenger vehicle. Snyder called that "two trips to Starbucks" and said it could raise $1 billion — a good start, he said, but "we need to do more than that."
Snyder delivered his special message on infrastructure today during a news conference at Lawrence Technological University in Southfield. He said he wants to take the next few months to have an open dialogue about ways of generating new revenue for roads.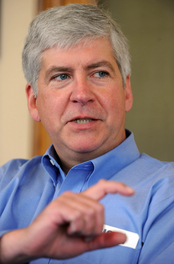 Among those in attendance was Ann Arbor Democrat
Conan Smith
, chairman of the Washtenaw County Board of Commissioners. Smith asked Snyder about an idea he mentioned to eliminate the state's 19-cents-per-gallon gas tax and 15-cents-per-gallon diesel tax.
Instead of a retail tax, Snyder said a better approach might be a wholesale tax on fuel, which he said is a more viable long-term funding approach. He said the change could be revenue neutral.
"Michigan's infrastructure is living on borrowed time," Snyder said in a statement. "We must reinvest in it if we are to successfully reinvent our economy. I haven't met a Michigan driver yet who is satisfied with the condition of our roads and yet we're facing a $1.4 billion shortfall just to maintain our current system. If we want to grow our economy and keep our children here, then we need to fix the very foundation of our state."
Senate Democratic Leader Gretchen Whitmer, D-East Lansing, issued a statement saying she was underwhelmed with the governor's message.
"It seems that Governor Snyder can come up with bold ideas when they benefit his corporate friends, but when it comes to Michigan's roads and infrastructure system, we get regurgitated ideas that amount to little more than a shell game," she said.
Whitmer called the ideas the governor floated today "the same tired proposals" state lawmakers have heard in years past.
"Michigan actually needs to reinvent the way we pay for our roads, not simply shift fees around to give the illusion we're solving problems," she said.
Urging reforms to Michigan's transportation user fees, Snyder pointed to the state's 2008 Transportation Funding Task Force and this year's House Transportation Committee work group, both of which cite the need for significant funding increases.
Some of the recommendations include allowing counties and regional authorities to levy a local vehicle registration fee to support transportation if approved by local voters, and distributing new transportation funding based on road use and traffic volumes.
Snyder said Michigan is ideally positioned to emerge as a global trade center due to its location within the international shipping and logistics stream between Detroit, Chicago and Toronto. Taking advantage of that opportunity demands a modern infrastructure, he said, once again calling for forward movement on a second bridge to Canada.
Snyder also said he wants to see a new transit system centered around Detroit in Southeast Michigan. Detroit has to be on the path to being a great city again and needs a transit system that works, he said, calling it one of the main attractors of young people.
He talked about a multimodal system serving the movements of a new generation of Michiganders that he said is more active, urban-based and tech-savvy.
He called for further developing Michigan's bus and rail transit, aviation system and ports. Thanks to the Legislature's actions, he said, Michigan has secured $440 million in federal funds to accelerate passenger rail service from Detroit and Pontiac to Chicago.
He said Michigan also has rail freight projects, such as the Detroit Intermodal Freight Terminal and Detroit Railroad Tunnel expansion, ready for construction with additional investment.
Snyder called for further cost savings and efficiencies, including allowing counties to absorb their county road commissions. He said Michigan is the only state with county road agencies, and he pointed out there are 617 road agencies of various kinds in the state.
He also called for updating Public Act 51 of 1951 to remove cities and villages that receive less than $50,000 in transportation funding from the state's distribution list
Snyder also said he wants agencies covered under Act 51 to conform to Michigan's new law requiring public employees to pay 20 percent of their health care premiums and have new employees placed on defined contribution retirement plans.
Snyder also is proposing continued investment in airports and said he will work with Michigan's congressional delegation to secure additional funds to dredge Great Lakes ports and pursue construction of a new shipping lock in Sault Ste. Marie.
Also on the topic of infrastructure, Snyder said failing sewer systems can have a direct impact on the number of beach closings across Michigan each year. He's endorsing recommendations of a state advisory body to use $1 billion approved by voters in 2002 to provide grants and low-interest loans to help communities upgrade sewer and water systems.
Ryan J. Stanton covers government and politics for AnnArbor.com. Reach him at ryanstanton@annarbor.com or 734-623-2529. You also can follow him on Twitter or subscribe to AnnArbor.com's e-mail newsletters.