Posted on
Fri, Apr 29, 2011 : 10:49 a.m.
Snyder recall petition language approved
By Cindy Heflin
Language was approved this morning for a petition seeking the recall of Michigan Gov. Rick Snyder.
The Washtenaw County Board of Election Commissioners approved the wording on a 2-1 vote with County Treasurer Catherine McClary voting against it, said Matt Yankee, acting director of elections for Washtenaw County. County Clerk Larry Kestenbaum and Circuit Court Judge Donald Shelton voted to approve the wording, Yankee said.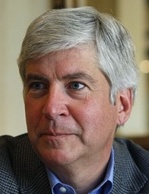 Both McClary and Kestenbaum were elected to their offices as Democrats in the 2008 election. Judge elections are non-partisan in Michigan.
The group Michigan Citizens United can now collect signatures for its recall effort. The group must collect 806,522 signatures in order to place the measure on the November ballot.
The petition cannot be submitted to the state until six months after the governor took office, which is July 1.
Michigan Citizens United spokesman Tim Kramer earlier said the group is made up of a broad coalition of Michigan residents. He said the group opposes legislation that allows the appointment of an emergency financial manager for school districts and municipalities struggling financially as well as other policies of the governor.
The group had to file the petition in Washtenaw County because this is Snyder's legal county of residence. Snyder lives in Superior Township.
The petition wording says Snyder: "has approved and signed various laws that take authority and funds from local governments and school districts and vest them with the state. He has obtained for himself, through his appointed Emergency Financial Managers, the power to invalidate legal and binding contracts entered into by properly elected local authorities. He has sought tax increases upon retirees and lower income families, but instead of addressing the deficit, he has sought large new tax cuts for corporations and businesses."
Before the petition was approved this morning, McClary moved to reject the wording, but that failed for lack of a second, Yankee said.
After the meeting, McClary said parts of the petition wording were not clear in her opinion. "I believe very strongly that it's important for voters to have a very straightforward document that they are voting up or down," she said. "Straightforward and grammatically correct."
The governor's legal counsel submitted a written statement asking the commission to reject the petition language as unclear and taking issue with several claims in it.
Editor's note: A link to a PDF of the recall petition, meant to show only the wording of the recall effort, was removed to avoid any confusion about the document. The form was not the final version of the petition that will be circulated.