Posted on
Wed, Apr 18, 2012 : 2:37 p.m.
Ann Arbor to install solar panels at Veterans Park Pool and Fire Station 6
By Ryan J. Stanton
Solar panels are on their way to the Veterans Memorial Park Pool following the Ann Arbor City Council's approval of a contract with Huron Valley Electric.
The city previously approved a contract with the same company for about $50,000 to install solar panels at Fire Station 6 near Briarwood Mall.
The city was planning to purchase the solar panels separately from a manufacturer at a discount and then have Huron Valley Electric install them, but that fell through.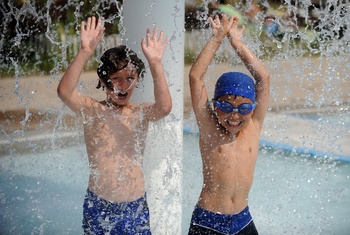 Melanie Maxwell I AnnArbor.com
The action taken by council Monday night
increases the contract with Huron Valley Electric by $39,500
and that means the company will both provide and install the solar panels at Station 6 and the pool.
Cresson Slotten, systems planning manager, said the projects are part of the city's matching requirement for a Solar America Cities grant from the U.S. Department of Energy.
Slotten wrote in a memo to council members before Monday's meeting that the two projects, once completed, will be "highly visible demonstrations of photovoltaic technology."
"Electricity from the installations at Veterans Memorial Park Pool will help to power the pool and ice rink, complementing the existing solar pool heating system," he wrote. "The installations at Fire Station 6 will result in approximately $1,500 in annual savings."
Fire Station 6 could close under a reorganization plan being proposed by Fire Chief Chuck Hubbard.
City Administrator Steve Powers said the restructuring of stations is a proposed plan. Whether the plan proceeds, and in what configuration, will be decided later this year, he said.
"If the building is no longer used as Fire Station 6, there will be another use for the building," he said. "The use will not be cold storage, so energy efficiency upgrades will still make sense, although the payback may be over a longer period of time."
The council previously approved a $43,000 contract with Pranam Global Tech Inc. to construct shade structures at the pool that are to support the solar installation.
The City Council also voted unanimously Monday night to authorize a $39,500 amendment to an agreement with the Ann Arbor Hands-On Museum to design and construct a series of mobile solar exhibits as part of the city's Solar America Cities grant.
Ann Arbor was one of 25 cities in the nation designated by the U.S. Department of Energy as a Solar America City in 2007. The federal program has a goal of establishing a core group of cities to serve as examples on how to implement successful solar energy programs.
In July 2007, the federal government awarded Ann Arbor a $200,000 grant to lead an effort to integrate solar energy throughout the Ann Arbor community by 2015.
The city engaged 11 community partners to commit a total of $355,008 in matching funds and in-kind services, making a project total of $555,008.
The Ann Arbor Hands-On Museum is one of the city's original partners and has worked with the city on other solar energy exhibits, including a display of real-time temperature data from a solar water heater system installed at the downtown fire station.
Andrew Brix, the city's energy programs manager, said the museum also is designing another project for the Farmers Market solar system.
"As a result of this ongoing partnership, Hands-On Museum was designated the best source vendor to complete the mobile solar exhibits work in order to maintain a consistent message and look and feel across the city's solar education efforts," Brix wrote in a memo to council.
Brix said the mobile solar exhibits are a part of the city's efforts to educate residents about the value of solar energy while teaching basic science concepts.
The exhibits will be capable of being easily transported so that they can be moved between different public spaces as needed, Brix said.
Examples of locations where the exhibits might be displayed include library lobbies, city hall, schools and the Mayor's Green Fair, which takes place each year.
Ryan J. Stanton covers government and politics for AnnArbor.com. Reach him at ryanstanton@annarbor.com or 734-623-2529. You also can follow him on Twitter or subscribe to AnnArbor.com's email newsletters.