Posted on
Fri, Feb 8, 2013 : 5:59 a.m.
Some schools close after overnight snowfall and freezing rain
By Cindy Heflin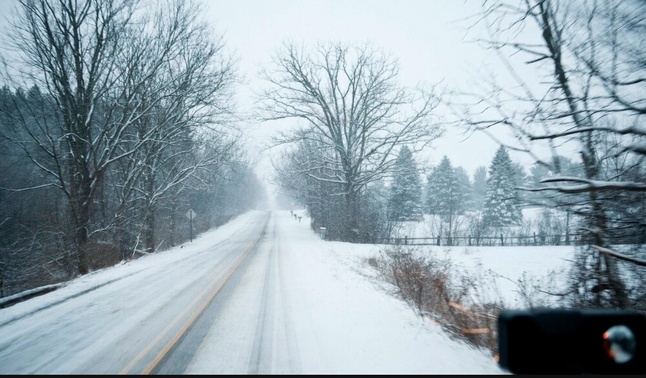 Daniel J. Brenner | AnnArbor.com
A winter storm that moved into the Ann Arbor area overnight left 1 to 2 inches of snow on the ground and a light glazing of ice in some areas, the National Weather Service said.
Most area school districts closed as a result. They included Dexter, Chelsea, Lincoln, Manchester, Milan, Saline, Whitmore Lake, Willow Run and Ypsilanti Public Schools and the Washtenaw Intermediate School District. Many private and charter schools were also closed as was Washtenaw Head Start.
Ann Arbor Public Schools decided to go ahead with classes today. District spokeswoman Liz Margolis said district officials had been monitoring the roads overnight, and crews have been clearing school parking lots and sidewalks.
"We're very confident that we can get all the kids to school safely," she said.
Officials from Washtenaw Intermediate School District, which provides busing for Ann Arbor, Ypsilanti and Willow Run schools, have been assessing road conditions since 2 a.m., she said. They reported that roads are very passable.
Another round of snow will be coming through Friday morning, meteorologist Steve Considine with the National Weather Service in White Lake Township said. The total for the storm will likely be 1 to 3 inches, he said.
Areas to the north got more. Near Midland, 8 inches had fallen.
As of 8:20 a.m., emergency crews were dealing with several crashes on Ann Arbor-area freeways. They included crashes on eastbound Interstate 94 at Scio Church Road, westbound M-14 at Maple Road and eastbound M-14 to northbound U.S. 23 at the west triple-decker intersection. Those crashes were not blocking the freeways.
Crews were also still dealing with a jackknifed semi on northbound U.S. 23 north of Willow Road and had closed the southbound lanes of the freeway, a dispatcher with the Washtenaw County Sheriff's Office said at 8:35 a.m. The road was reopened by 9:30 a.m.
The number of crashes reported Friday morning had not been as high as officials feared, a dispatcher said.
A winter weather advisory remains in effect until noon. The storm system that left varying amount in Michigan was expected to move east and collide with a major storm that was moving up from North Carolina and expected to create blizzard conditions in the Northeast.
Two feet of snow was expected in Boston, while parts of New York were expected to get 18 inches.
Once the snow moves out of the Ann Arbor area, cold weather will move in. Temperatures were expected to drop to around 6 degrees Friday night with wind-chill values around 1 below zero. Saturday is expected to be mostly sunny with a high near 27. Saturday night, the low is expected to be about 12.
Sunday will be warmer with partly sunny skies and a high of 35.
Charter and private school closings in Washtenaw County included:
Ann Arbor Academy
Arbor Prep High School
Calvary Christian Academy
CHS Group-Washtenaw
Daycroft Montessori-Oakbrook
Daycroft Montessori-Zeeb Road
East Arbor Academy
Emerson School
Fortis Academy
Greenhills School
Gabriel Richard High School
Go Like the Wind Montessori School
Honey Creek Community School
Huron Valley Catholic School
New Beginnings Academy
Oak Trails
Rudolf Steiner Lower
South Arbor Academy
South Pointe Scholars
Spiritus Sanctus Academy
Saint Francis
Summers Knoll School
Washtenaw Christian Academy