Posted on
Wed, Aug 22, 2012 : 5:57 a.m.
St. Joseph Mercy hospitals revamp patient menus with fresh focus
By Amy Biolchini
The kitchens of St. Joseph Mercy hospitals in Ann Arbor and Livingston have rolled out upgrades to inpatient meals and service this month.
Disposable plastic forks and knives and dried-out entrees are now a thing of the past, according to hospital administrators.
The menu system has been completely overhauled and dishes are now made to order in a restaurant-style assembly instead of being prepared in large batches.
Kitchen staff are attempting to source 20 percent of the ingredients locally by 2020 - a benchmark they're close to accomplishing through their bread and milk.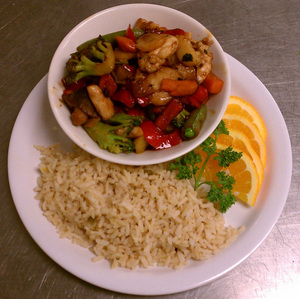 Courtesy of St. Joseph Mercy Ann Arbor
Tomatoes and herbs grown in the
hoop house gardens behind St. Joseph Mercy Ann Arbor
are already incorporated into salads and dishes in the kitchen.
Last fall, St. Joseph Mercy Ann Arbor revealed its St. Joe's Market Cafe — a cafeteria for visitors, hospital staff and patients that features fresh, seasonal options.
"We've taken great strides to improve the food experience here for all parties," said Tom Tocco, vice president of support services and capital project management for St. Joseph Mercy Health System. "The taste is nothing short of outstanding."
Fresh fruits and vegetables will be used, rather than canned or frozen items, Tocco said.
Deep-fat fryers have been taken out of the hospital kitchens and salt packets have been removed from trays when meals are served to patients.
Sodium has been incorporated into the recipes themselves according to guidelines set by the American Heart Association — standards that all of the meals now follow in the St. Joseph Mercy Ann Arbor and Livingston hospitals.
The new menu items - which include made-to-order cheeseburgers, quesadillas and pizzas - were tested on hospital administrators, doctors and nurses, Tocco said.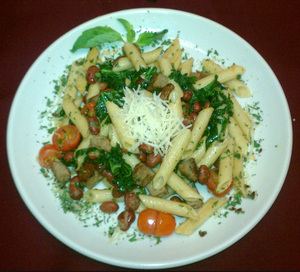 Courtesy of St. Joesph Mercy Ann Arbor
"We fed all the executives the new menu," Tocco said. "We got back nothing but high praise for the quality and taste of the food."
Macaroni and cheese, home-style meatloaf with gravy, grilled pork chop with gravy or fruit salsa, turkey sausage and kale penne pasta with sauce and cheese are among the dinner menu options.
Lunch offerings include build-your-own sandwiches, braised pot roast with gravy and chicken pot pie. For dinner, there's macaroni and cheese, homestyle meatloaf with gravy and grilled pork chops with gravy or fruit salsa.
The gravy is prepared to be fat free and low in sodium. The hospital kitchens have switched to using lunch meat that is free of hormones and antibiotics.
Meals can be adjusted for vegan and vegetarian preferences. There are desserts on the menu as well, which are all about 200 calories each.
Separate breakfast, lunch and dinner menus are now carefully tailored for each patient by a doctor according to their dietary restrictions.
Patients can choose between the options selected by their doctor for each meal.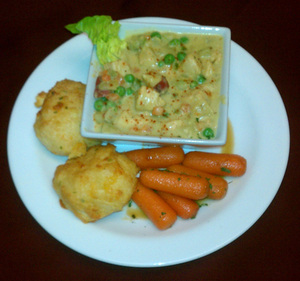 Courtesy of St. Joseph Mercy Ann Arbor
Real chinaware plates and silverware, as well as fancier presentation and garnishes, give the patient dining experience a final leg up.
"We eat with our eyes," said Terri Junik, manager of Food and Nutrition Services for St. Joseph Mercy Ann Arbor and Livingston. "That presentation makes it very nice looking."
The kitchen staff has been excited and engaged in the process.
"(The staff) see the results," Junik said. "Now they won't let a plate go unless it's clean and decorated - they're proud of what they're putting out."
Previously, the hospital had to dispose of a lot of leftover food at the end of the day because they prepared meals in large quantities - which proved to be costly, Tocco said.
By preparing food to order, Tocco said the kitchen will save enough money to pay for all the improvements to the menu and meal presentation.
Amy Biolchini covers Washtenaw County, health and environmental issues for AnnArbor.com. Reach her at (734) 623-2552, amybiolchini@annarbor.com or on Twitter.