Posted on
Wed, May 30, 2012 : 6:55 p.m.
Stabenow says Ann Arbor-to-Detroit rail effort moving slower than she'd like
By Ryan J. Stanton
MACKINAC ISLAND — Three candidates looking to represent Michigan in the U.S. Senate offered different opinions on regional rail and mass transit on Wednesday.
Incumbent Debbie Stabenow, the only Democrat on the ballot, said she's bullish on the prospect of increased public transit services in Southeast Michigan.
"When I was in the House, I started a process they're working on right now to (improve rail services) from Ann Arbor down past the airport into Detroit," she said. "And that's moving along slower than I would like, but I think we've got the makings."
In relation to Ann Arbor, two separate rail initiatives are under way: a push for high-speed rail from Detroit to Chicago and commuter rail between Ann Arbor and Detroit.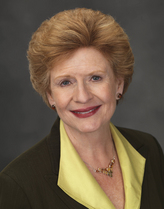 Former U.S. Rep.
Pete Hoekstra
and Cornerstone Schools founder
Clark Durant
— two of the Republicans competing for the chance to challenge Stabenow in November — had different views on issues of mass transit.
"I went up to Lansing and I listened to all these people say, 'If you don't get these subsidies for the Ann Arbor railroad, it's gone.' And I said wait a minute, it's already gone," Durant said, expressing doubts about federal subsidies for transit projects.
Durant specifically mentioned the push to build a light rail line on Woodward Avenue from downtown Detroit to New Center, an effort with significant private backing. He suggested every mass transit project should have significant private investment.
"You really have to say to yourself, 'Is this going to be self-sustaining or are we creating just another People Mover that has to continually be subsidized in different ways?' " he said. "I think you have to look at the business plan. You have to say, 'If this is so viable, then let's see if we can get private capital.' Private capital came around the Keystone Pipeline."
The Michigan Senate race took center stage Wednesday afternoon during the Detroit Regional Chamber's annual Mackinac Policy Conference.
The session was moderated by Michigan Public Radio's Rick Pluta, who pressed all three candidates on where they stand on building a new bridge from Detroit to Canada.
When asked if she supported the concept as proposed by Gov. Rick Snyder, Stabenow offered a simple "yes" and smiled as the crowd applauded.
Asked whether he thought it was in Michigan's economic interest to have a new publicly owned bridge to Canada, Hoekstra he's not sure it has to be publicly owned.
"Personally I'd like to see private money as part of the solution," he said.
"Detroit was located where it was because it has the potential to be a great transportation hub, he added. "If it is going to be a great transportation hub, it is not just about a bridge, it is about a bridge, it is about a tunnel, it is about the airport. These are all assets to the state of Michigan."
Durant said the more the nation can expand trade, the better.
"Because, frankly, Debbie is quite right," he said. "You know, 94 percent of the customers in the world are outside our borders."
But he said if a second bridge is necessary, private capital ought to be there to do it.
"I think we should open up markets," he added. "And I'm not in favor of monopolies whether they be private or public, so I would encourage, if there is enough traffic to justify it, well then fine. Let's see if the private money can come together."
Durant said he's not in favor of a publicly owned bridge because it would cost more and more as time goes on, and if it is a vital corridor, there should be the private capital.
Stabenow talked up the Detroit light rail effort, as well as the prospect of bus rapid transit linking Detroit to Macomb and Oakland counties. She touted the level of private investments being made in Detroit and tied that to the mass transit discussion.
"It's not a just a line to say we have CEOs running toward Detroit. We do," she said. "Unlike other cities that I know. It's extraordinary."
Asked whether he'd work to find federal funding for transportation projects in Michigan, Hoekstra mostly dodged the question, saying his preferred alternative is that transportation dollars collected in Michigan should stay in Michigan.
That way, he said, Michigan can establish its own priorities and fund them without needing a U.S. senator to go out and convince other senators to "subsidize a bridge in Michigan."
"If Michigan wanted to build a turtle fence, they could," he said.
"Rick needs a friend in Washington to help move the Michigan agenda forward," he added. "Michigan should decide the format, the structure and the need for building a new bridge."
Ryan J. Stanton covers government and politics for AnnArbor.com. Reach him at ryanstanton@annarbor.com or 734-623-2529. You also can follow him on Twitter or subscribe to AnnArbor.com's email newsletters.