Posted on
Sun, Nov 27, 2011 : 5:59 a.m.
8 things to remember as the Stadium bridges project starts on Monday
By Ryan J. Stanton
The $22.8 million project to demolish and reconstruct the 83-year-old Stadium bridge spans in Ann Arbor starts on Monday — along with related road closures and traffic detours that in some cases will last a full year.
But no pain, no gain, right?
City officials say when the project is done, city residents can expect a project similar in quality and with features similar to the Broadway bridges reconstructed in 2003 and 2004. That includes more than just improvements for cars, but also for pedestrians and bicyclists.
Here's a quick recap of what anyone who lives in or travels to Ann Arbor needs to know:
1. The main work on the Stadium bridges project involves removal and replacement of the existing spans over State Street and the nearby Ann Arbor Railroad tracks, staircase construction at State Street, pedestrian tunnel extensions, installation of retaining walls, replacement of storm sewer and water main, and enhancements to Rose White Park.
2. State Street will be closed to traffic starting Monday through Dec. 13 in the vicinity of the project. That's when crews will demolish the bridge spans and install storm and sanitary sewers. Check out AnnArborBridges.org for detour maps and other project info.
3. East Stadium Boulevard will be closed from Monday through most of 2012. The project schedule says Stadium will reopen to traffic Nov. 14, 2012, but city officials have said it might not be until December 2012. Either way, that means a major east-west thoroughfare will be out of service for about a year, including through the University of Michigan football and basketball seasons next year. The bridges are located less than a quarter mile from U-M's 101,701-seat football stadium and the 15,000-seat Crisler Arena.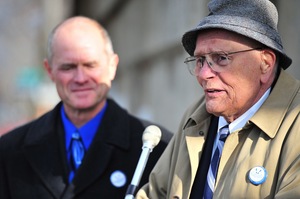 Ryan J. Stanton | AnnArbor.com
4. With detours in effect, expect some trips to take a little longer and expect more traffic than usual on South Industrial Highway, Eisenhower Parkway, Main Street, Packard Street, and other streets like Hoover, Granger and Park Place that will be used as alternate routes. Again, for official detour maps,
go to the project website
.
5. Stadium will be reconstructed from Kipke Drive to South Industrial, and State Street will be reconstructed from Henry Street to Rose Avenue. Northbound traffic on State Street will be detoured from April 30 through July 11, 2012, while southbound traffic will be maintained.
6. Upgrades at Rose White Park, as well as landscaping and site restoration, are expected to happen partway through 2012.
7. The project includes improved sight distances, the addition of on-street bike lanes, sidewalks on both sides of the road, improved street lighting, greater vertical and horizontal clearances for both bridge spans, construction of a sidewalk on the west side of State Street and improved pedestrian access to Stadium via new staircases at State.
8. The project completion date is May 30, 2013.
Ryan J. Stanton covers government and politics for AnnArbor.com. Reach him at ryanstanton@annarbor.com or 734-623-2529. You also can follow him on Twitter or subscribe to AnnArbor.com's e-mail newsletters.