Posted on
Thu, Mar 24, 2011 : 5:59 a.m.
Ann Arbor residents get first look at final designs for $23M Stadium bridges replacement project
By Ryan J. Stanton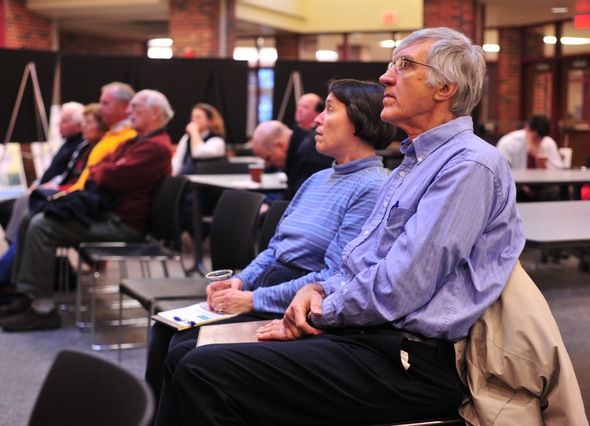 Ryan J. Stanton | AnnArbor.com
For Ann Arbor resident Ruth Dixon, it's the walking and biking features in the upcoming East Stadium Boulevard bridges project that excite her the most.
Dixon, who lives off Scio Church Road, said she's often befuddled she lives in the middle of Ann Arbor and there aren't bike paths and sidewalks to take her where she needs to go.
"And so I'm happy as this becomes a much more well-planned urban setting," she said as she left a public information meeting on the project Wednesday night. "I'm glad the walking and biking will improve on Stadium, and as it continues westward I will be even happier."
Ann Arbor officials unveiled some of the final designs for the long-awaited reconstruction of the Stadium Boulevard bridges during an hour-and-a-half meeting at Pioneer High School.
Michael Nearing, city engineer and senior project manager, gave an update on the project to about two dozen residents who gathered inside the school cafeteria, discussing project funding, newly unveiled drawings and construction period operations, including expected detours.
Ryan J. Stanton | AnnArbor.com
Construction is expected to start later this fall.
The project starts at the entrance to the University of Michigan Golf Course on Stadium Boulevard and continues east until just short of South Industrial Highway.
Two bridge spans will be completely replaced, including the bridge over South State Street that was built in 1917 and the bridge over the Ann Arbor Railroad tracks that was built in 1928. The project also includes reconstructing a portion of South State Street under the bridge.
Nearing said the city will keep Stadium Boulevard close to its current configuration, with four lanes of vehicular traffic. There will be on-street bike lanes on each side of the road, a widened sidewalk on the north side of Stadium and a new sidewalk on the south side of Stadium.
There will be two pedestrian stairway connections to Stadium Boulevard, featuring open picket-style railings and streetlight fixtures, at the northwest and southeast corners of the span over State Street. There also will be an ADA-accessible path from State Street up to Stadium.
"We're going to have a couple of lights on each staircase to light them up at night, so that you can obviously see where you're walking," Nearing said.
Nearing talked about what the retaining walls would look like. He said it was decided they should have some texture and color, with different patterning, but they shouldn't look fake.
Based on input from residents at previous meetings, the city decided against including any type of logo on the walls. A previous conceptual drawing showed a University of Michigan logo, but residents voiced concerns since U-M wasn't willing to help pay for the $23 million project, which will help football and basketball fans get to Michigan Stadium and Crisler Arena.
"Our project is being designed for the next 75 years. We're doing this to make it last," Nearing told residents, adding most of the work will include building the retaining walls.
Ann Arbor resident Nancy Kaplan said she was disappointed to learn that one of the walls will rise as high as 25 feet at its tallest point near the railroad tracks.
"That's a lot of wall," she said. "I'm very concerned about aesthetics. It's supposed to last 75 years, and I'd like to have something that's aesthetically pleasing and neighborhoods don't kind of see a wall. So that's my concern. A 25-foot-high wall is one heck of a wall."
The meeting was attended by members of the Ann Arbor Golf and Outing Club, a private club with a nine-hole golf course located west of the bridges near Main and Stadium.
"I'm interested in what's going on with this, because eventually it's going to affect that next phase to the west," said club member Tony Rutz, who lives in the Georgetown neighborhood.
"The original plan years ago, which also included the Main Street project, was going to decimate our golf course, and I think there's been a lot of back and forth between the club and the city since then to probably mitigate some of that, but it's obviously still a concern."
As far as getting the bridges replaced, Rutz said he's quite thrilled.
"I'm glad they're finally going to do something after all these years," he said. "It seems like it's a much grander project than it might necessarily have to be, but that's the way the city seems to do things. That seems to be the city's goal is these sidewalks and bike lanes everywhere."
According to the latest schedule, the construction contract is expected to go out to bid in July, with bids due Sept. 2. The chosen contractor would be granted notice to proceed in early October. Stadium Boulevard and State Street would close to traffic starting Nov. 28.
After the contractor tears down the bridge over State Street, the street would reopen to two-way traffic with construction zones on Dec. 13, but wouldn't reopen to full traffic until July 2012.
Stadium Boulevard wouldn't fully reopen until November 2012. The entire project is being targeted for completion toward the end of May 2013.
Planning for the replacement of the bridges originally began in 2007 as part of a larger project. Given the increasing urgency of replacing the span over State Street, which literally was crumbling, city officials narrowed the scope of the project in 2009 to include only the replacement of the bridges and improvements in the immediate adjacent area.
In December 2009, the preliminary design was presented and the public was invited to provide input on options for the visual character of the project. City officials said feedback from residents was used to develop construction plans, which are now virtually complete.
Ann Arbor resident Brad Battey said he's glad to see that White Street, which runs north and south and currently cuts through Stadium just east of State Street, no longer will connect to Stadium after the project is complete. He said he lives two blocks away and that will cut down on people cutting through his neighborhood.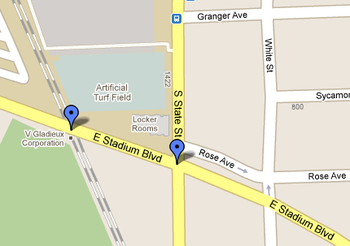 Google Maps
"Virtually all of my concerns have been addressed in the two or three previous meetings," Battey said, giving the city credit. "I can look at the drawings and see things that I mentioned or supported that are incorporated, and I guess you can't ask for much more than that."
Battey and other residents said they're still concerned with the current condition of Stadium Boulevard. They think temporary work needs to be done to repair the crumbling road between now and the time the road closes later this fall. Nearing said the city plans on cold-patching portions of Stadium Boulevard soon, but that didn't seem to please every resident.
"Driving on Stadium in the evening is very tough right now," said Ed Shalis, who lives near Pioneer High School. "There are a lot of holes, you can't see where the holes are, it's hard to avoid the holes. So anywhere around that bridge, right before and immediately after, and definitely on the bridge, it's a little bit hazardous. It should be a concern for anyone who uses that bridge on a daily basis."
Patricia Shalis said the bridge project is long overdue.
"Of course, we're also sitting here wondering about when are they going to work on the adjacent pieces of Stadium, too," she said. "Because they are in a horrible state from Seventh over and then beyond the bridge. It seems like we need a plan for the whole area."
The City Council called a special meeting last week to finalize a contract with the U.S. Department of Transportation for a $13.9 million TIGER II grant for the project. About $800,000 already has been obligated, and city officials are confident they'll secure the rest soon.
"It'll be nice when we have the final go ahead from the feds," said Mayor John Hieftje. "It's almost there, it's right there, and it's pretty darn sure we have it, and yet there's still some work to do to make sure. There's no reason for us to believe that money's in jeopardy, but I'll certainly be more comfortable when it's all allocated."
With nearly $2.9 million more from the state, the city expects to have nearly $16.8 million in outside funding for the $23 million bridge project. The city expects to pay $6.2 million.
City officials decided to hold off on moving forward with the project last year with hopes that those grant funds would come through if they waited. More outside funding for the project means more local money left over to spend on repairing local roads in Ann Arbor.
According to the city's most recent audit for the fiscal year that ended June 30, 2010, the street millage fund had an unreserved fund balance of more than $23.1 million. Total street millage fund revenues came in at $10.5 million for the year, while about $10.1 million was spent. The fund balance increased nearly $3.1 million due to increased transfers from other funds.
As city officials look for ways to spend that money, one of the projects being planned is a multimillion reconstruction of Dexter Avenue from Huron to Maple.
"We should be in good shape to really get busy on the local streets," Hieftje said. "We'll be discussing the total plan a little later, but that's my expectation that we will now be able to free that money up and go forward with all the local street work we can afford."
Click here to download a copy of Wedneday's presentation in PDF format.
Ryan J. Stanton | AnnArbor.com
Ryan J. Stanton covers government and politics for AnnArbor.com. Reach him at ryanstanton@annarbor.com or 734-623-2529. You also can follow him on Twitter or subscribe to AnnArbor.com's e-mail newsletters.