Posted on
Fri, Mar 15, 2013 : 3:38 p.m.
University of Michigan opens contract at request of nurses union to draft 5-year agreement
By Amy Biolchini
At the request of the Michigan Nurses Association, the University of Michigan has opened its nurses union contract more than a year before it was set to expire and the two parties have reached a tentative agreement.
The two parties reached the agreement Wednesday, and the Michigan Nurses Association notified the employees it represents in the University of Michigan Professional Nurse Council of the new agreement Thursday.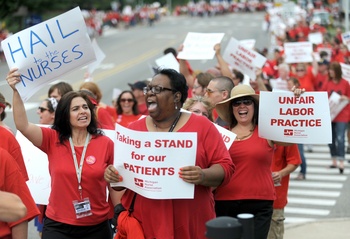 Angela J. Cesere | AnnArbor.com file photo
The Michigan Nurses Association expects to vote on ratifying the new agreement next week. The University of Michigan Professional Nurse Council represents about 4,500 employees and
publicly protested during the summer and fall
of 2011 during the last contract negotiation session.
An agreement was reached in November 2011.
That contract was set to expire June 30, 2014.
"It was important to the union to re-open (their contract) and we were willing to open and engage in the process and end up with something that's mutually beneficial," said Rick Fitzgerald, spokesman for the University of Michigan.
Michigan's new right-to-work law takes effect in the state March 28. Passed in December, the law removes the security clause in union contracts that would require employees to pay union dues as a condition of employment.
"The Michigan Nurses Association/University of Michigan Professional Nurse Council and the university have reached a tentative agreement on a contract modification," according to a statement from Michigan Nurses Association Executive Director John Karebian. "As is usual during this process, MNA is focused on informing all of our UMPNC nurses of the details of the tentative agreement and will not be commenting further at this time."
Fitzgerald said the tentative agreement reached would expire June 30, 2018.
"It does provide a longer period of stability with a very important group of employees," Fitzgerald said of the five-year time frame.
The negotiations included a give-and-take process from both sides, Fitzgerald said.
"This was a re-opening of the contract, not just an extension," he said. "Other matters were discussed and other agreements were reached."
U-M was approached by three other unions to re-open their contracts, and has reached a tentative agreement with one of them, Fitzgerald said. A contract with the Lecturers Employee Organization was set to expire this spring and U-M has reached a tentative five-year agreement for a new contract with them, Fitzgerald said.
Unions across much of Southeast Michigan have been approaching employers with requests to quickly negotiate extended contracts to defer the initial effects of the right-to-work law, said Derk Wilcox, a lawyer for the Mackinac Center for Public Policy.
Some unions representing employees of Washtenaw County have asked county administration similar requests, and county staff is working to re-negotiate about 15 union contracts before the Board of Commissioners meeting March 20.
Amy Biolchini covers Washtenaw County, health and environmental issues for AnnArbor.com. Reach her at (734) 623-2552, amybiolchini@annarbor.com or on Twitter.