Posted on
Tue, Jul 19, 2011 : 3:47 p.m.
Michigan approves $2 million in tax assistance for Packard Square project in Ann Arbor
By Ryan J. Stanton
The Michigan Economic Growth Authority today approved a plan to capture $2 million in local and school taxes for the redevelopment of the former Georgetown Mall property in Ann Arbor.
The MEGA board's approval comes following approvals by the Ann Arbor City Council and the Washtenaw County Board of Commissioners of a brownfield plan for the Packard Square project that includes $5.8 million in tax-increment financing assistance for the developer on the nearly $49 million, mixed-use project.
A brownfield property is one in which site conditions present an obstacle to redevelopment. In Michigan, that can include properties that are environmentally contaminated, blighted or functionally obsolete, and the developer of Packard Square claims all three conditions exist.
Under the local brownfield plan, $5.8 million in taxes are expected to be captured over a 14-year period to help finance the project. Of the total eligible brownfield activities, $3.6 million would be directly reimbursable to the developer, plus another $717,236 in interest.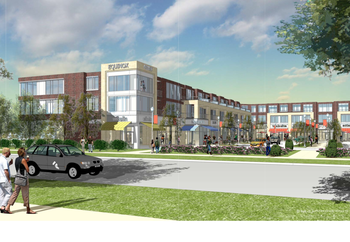 From The Harbor Companies LLC
The MEGA board on Tuesday signed off on the Washtenaw County Brownfield Redevelopment Authority's use of $2 million in tax captures to support the demolition of three vacant one-story buildings and the construction of a four-story mixed-use retail and residential building on Packard Street in Ann Arbor. The project includes about 21,000-square-feet of commercial space and 230 apartments that would be located above and behind the retail space.
Brett Lenart, who oversees the county's brownfield redevelopment program, said the $2 million figure referenced by MEGA is only a portion of the $3.6 million being reimbursed to the developer. The remaining portion of developer-reimbursed activities will be considered by the Michigan Department of Environmental Quality, which has not rendered a decision yet, he said. He added that each state entity has jurisdiction over different portions of the eligible activities.
According to a memo from the Michigan Economic Development Corp. to the MEGA board, the Packard Square project is expected to be constructed to meet LEED Silver qualifications and designed to increase walkability in the area (download the memo).
It also is expected to create 45 new full-time jobs paying an average hourly wage of $28, with a total capital investment about $49 million, according to the MEDC.
"This underutilized property will be transformed into a mixed-use retail and residential destination creating increased foot traffic, expansion of local economy through new retailers, and additional revenue to taxing jurisdictions once eligible activities have been reimbursed," reads the memo signed by Deborah Stuart and Katharine Czarnecki.
"Contaminated soil created from a dry cleaner will be removed as part of the project and the site will be cleaned to applicable state of Michigan criteria," the memo continues. "Depending on soil conditions after source removal, a sub-slab vapor barrier with passive venting system under the building may also be necessary for the development."
According to the MEDC, the buildings on the site are considered functionally obsolete due to age, structural condition and "inability to economically upgrade and modify the structures to serve commercial markets at general accepted market rates." It's expected more than $3 million in environmental response activities are needed to alleviate brownfield site conditions.
The county has applied for $1 million in DEQ grant funds to pay for certain eligible activities on the site, including soil removal, the vapor barrier and a portion of the building demolition. The developer is seeking DEQ approval of another $1.18 million for eligible activities.
Of the $2 million in tax captures approved by MEGA today, the amount of school taxes captured for the project is estimated at $886,680.
In addition to the Packard Square project, the MEGA board today approved three other brownfield redevelopment projects and other incentives for projects throughout the state that are estimated to generate more than $198.2 million in new investment and create 1,142 jobs, according to a press release from the MEDC.
"Today's actions will help transform blighted, contaminated or functionally obsolete properties into new centers of economic growth and activity," Michael Finney, president and CEO of the MEDC, said in a statement. "At the same time, our economic gardening strategy is working to help companies grow and increase job opportunities in Michigan."
The state's MEGA board, created in 1995, is empowered under statute to award brownfield redevelopment tax credits to support new business expansion projects on property that is contaminated, blighted or functionally obsolete. The MEDC serves as staff to the MEGA board and administers the activities and programs to promote economic growth.
Ryan J. Stanton covers government and politics for AnnArbor.com. Reach him at ryanstanton@annarbor.com or 734-623-2529. You also can follow him on Twitter or subscribe to AnnArbor.com's e-mail newsletters.