Posted on
Tue, Mar 12, 2013 : 12:33 p.m.
State police release name of driver killed in U.S. 23 crash
By Kyle Feldscher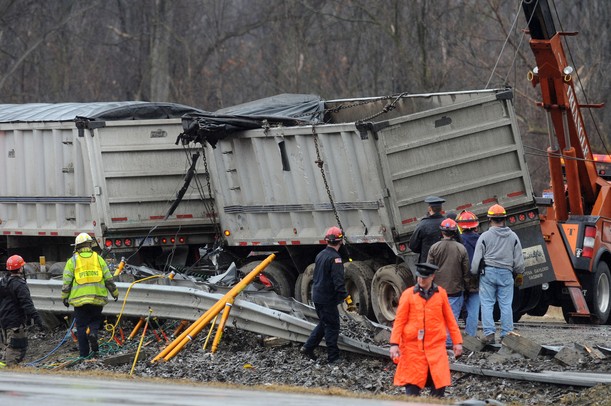 Melanie Maxwell | AnnArbor.com
Michigan State Police have released the name of the man killed in
a crash on southbound U.S. 23 north of Ann Arbor Monday afternoon
when a semitrailer rolled over onto his car.
James Wallace, 58 from Lennon, Mich., was pronounced dead just after 2 p.m. Monday on southbound U.S. 23 and Six Mile Road. Sgt. Mark Thompson, of the Brighton Post of the Michigan State Police, said the investigation into the accident is ongoing.
"Preliminary investigation indicates the left front steering tire (on the semi truck) blew out and caused the driver to lose control and strike the vehicle," Thompson said.
The crash occurred at 1 p.m. Monday as rain fell in the Northfield Township area. The semi truck with two trailers pinned Wallace's 2010 Chrysler PT Cruiser against the guardrail and overturned.
The freeway was closed between Six Mile and Eight Mile roads for approximately four hours while police investigated the accident at the scene.
The trailer stayed on top of the PT Cruiser for about an hour after the crash until emergency crews used two heavy-duty tow trucks to turn it right-side up. The scrap metal inside the trailer spilled out onto the roadway and the PT Cruiser.
The Washtenaw County Technical Rescue Team responded to the crash, along with state police troopers, Northfield Township firefighters and Huron Valley Ambulance paramedics.
The crash was the first of several on U.S. 23 in the Ann Arbor area Monday. During the afternoon commute, dispatchers reported as many as four crashes on the freeway.
Kyle Feldscher covers cops and courts for AnnArbor.com. He can be reached at kylefeldscher@annarbor.com or you can follow him on Twitter.