Posted on
Thu, May 10, 2012 : 3:47 p.m.
State Rep. Rick Olson announces he won't seek re-election for 55th District seat
By Amy Biolchini
In an announcement issued today, incumbent State Representative Rick Olson, R-York Township, has declared he will not seek re-election this fall after redistricting changed the political makeup of the area he serves.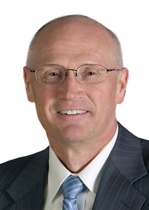 Changes to the district boundaries
last year switched
District 55
from about 51 percent Democrat to 65 percent Democrat.
Olson has previously said he would consider running as a Democrat for the 55th District seat in the State House of Representatives in the August primary election, but instead has now dropped out of the race.
Former Milan Mayor Owen Diaz is currently the only GOP candidate to officially file for the ticket.
The filing deadline for the August primary is 4 p.m. May 15.
"I thank the voters for the opportunity to serve these two years," Olson stated in a news release. "I am confident that there will be other opportunities to serve the people of the state, as serving as state representative has created an opportunity to showcase the many talents and energy I bring to any task."
Olson was hoping to gain a share of the Democrat vote and help from the Republicans in the district to bolster his chances to serve the people of the district.
However, as there's a contested race in the Republican primary for the position of the York Township Supervisor, there is less of a chance for Olson to gain crossover votes if he ran on the Democratic ticket.
On the Democratic ticket, two candidates are vying on the August primary for the chance to be on the November ballot: Ann Arbor resident Adam Zemke and Andrea Brown-Harrison, a first-term Pittsfield Township trustee.
"Rick Olson is a good person, and I thank him for his service, but his voting record against education, against the environment, and against equality did not represent Washtenaw County's priorities," Zemke said in a emailed statement released today.
Candidate Bob Davidow withdrew from the Democratic race for the House seat at the end of March.
Zemke said he's since received an endorsement from Davidow.
Amy Biolchini covers Washtenaw County, health and environmental issues for AnnArbor.com. Reach her at (734) 623-2552, amybiolchini@annarbor.com or on Twitter @amywrites_.