Posted on
Wed, Oct 31, 2012 : 12:50 p.m.
Statewide Pure Michigan singalong video may not return to YouTube
By Julie Baker
Bad news for fans of Pure Michigan's viral statewide singalong video: It may not return to YouTube after getting pulled from the site in September for copyright issues, MLive.com reports.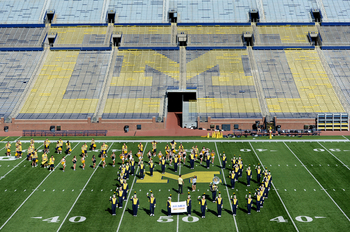 The video, shot in 50 locations, including Ann Arbor and Ypsilanti, had garnered nearly 2 million views in the 13 days it was online, the report said. It featured Michigan residents singing along to a modified version of the song
"Good Time"
by the band Owl City and "Call Me Maybe" singer Carly Rae Jepsen.
Status Creative, the Grand Rapids-based marketing firm behind the video, says the copyright issues with the song's major record label were resolved, but a secondary copyright holder filed for infringement and asked for compensation, MLive reported.
The Ann Arbor portion of the video was shot at Michigan Stadium and featured 40 members of the University of Michigan Marching Band, 40 cheerleaders and 25 dance team members.
More than 100 people showed up for the Ypsilanti shoot at the water tower on Cross Street to participate in a 5-second clip to be featured in the promotional video.
Status Creative co-founder Rob Bliss told MLive that he's in continuing negotiations with the secondary copyright holder and remains hopeful the issues will be resolved.