Posted on
Thu, Jan 10, 2013 : 12:36 p.m.
Report: Ann Arbor Public Schools, Central Academy beat test-score expectations
By Danielle Arndt
Ann Arbor Public Schools and charter school Central Academy have been recognized for exceeding test-score expectations and finding ways to "push learning through the socioeconomic ceiling," according to a new report.
A statewide ranking has named AAPS among the top-10 value-added affluent and traditional school districts in the state. Central Academy, which offers pre-K through 12th-grade, is the fifth most value-added school in all categories.
How can that be possible when Central Academy's math and reading test scores are below average and less than 8 percent of its students are considered college ready with an average ACT score of 18?
Bridge Magazine explains how — in a new study that questions whether the best teaching in the state is actually taking place at Michigan's low-income schools.
Bridge, the news and analysis arm of the Center for Michigan, a think tank on public affairs, announced its 2012 Academic State Champs Thursday.
The 2012 rankings were done differently than in 2011. For this year's State Champs recognition, Bridge Magazine, in partnership with Public Sector Consultants in Lansing, developed a ranking system that measures schools' test scores, while taking into consideration the socioeconomic status of children who walk through the doors.
Using an algorithm that accounts for a district or charter school's free and reduced-price lunch population, Bridge plotted out exactly what the expected test scores should be at 561 traditional districts and charter schools throughout the state.
The value-added rankings measure overachievement, said Bridge Magazine senior writer Ron French. He said the term "value-added" is a technical term but essentially, it is being used to refer to those schools that are doing the most with the students they have.
Bridge released top-10 lists for the top value-added schools in the following categories: schools of all grades, high schools, eighth-grade, fourth-grade, large city schools, rural schools, charters, traditional districts, affluent schools and low-income.
Ann Arbor Public Schools appeared on two top-10 lists — the most value-added affluent schools and the top traditional public schools as No. 3 and No. 8, respectively.
Washtenaw County's remaining districts and charter schools were left off the newest set of rankings.
Of the county's charters, only Central Academy and Eastern Washtenaw Multicultural Academy were included in the study. Bridge only looked at charters that offer high school curriculum in order to compare them with traditional K-12 districts.
Central Academy, 2459 South Industrial Highway in Ann Arbor, was one of the unexpected champions of the Bridge Magazine analysis, scoring a 114 on Bridge's value-added scale and appearing in the No. 5 spot overall for value-added schools of all grades.
It also was No. 10 for top value-added eighth-grade schools, No. 3 for value-added charters and No. 4 for low-income.
Schools received a score of 100 if their test scores were as expected for the incomes of their families, above 100 if the schools exceeded their computed expectations and below 100 if the schools performed worse than expected.
Ann Arbor Public Schools received a score of 111. Districts across the state ranged from 76 to 120. In Washtenaw County, Dexter, Chelsea and Saline scored above 100; Lincoln, Manchester, Milan, Whitmore Lake and Ypsilanti were in the 90s; Willow Run scored an 86 and Eastern Washtenaw Multicultural Academy an 81.
Bridge Magazine analysts found that schools typically thought of as high-performing, like AAPS, did well in the study, but the top 10 schools overall were actually high poverty districts and charters, like Central Academy, that usually are not recognized for their academic success.
"What this does is it gives Michigan a view of how good the teaching is in these schools," French said. "The best teaching may well be happening in the state's high poverty schools… Teachers at these schools are raising their students' test scores higher… (Students) are doing better than they should be."
Central Academy Principal Luay Shalabi said he is happy there are organizations in the state starting to look at test scores this way and to consider the characteristics of a school's student population.
Central Academy currently has an enrollment of about 547 students. Last year, 84.23 percent of its student body population qualified for free or reduced-price lunch. But beyond socioeconomic status, about 70 percent of Central's students are from Middle Eastern descent and about 95 percent of them grew up in homes that spoke a different language, Shalabi said.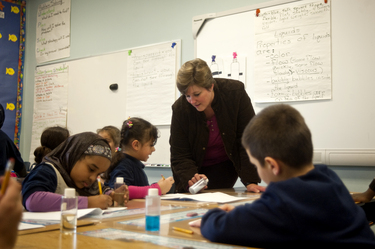 Joseph Tobianski | AnnArbor.com
"People don't realize that most of our kids are English-language learners. The vast majority appears fluent when speaking socially. But understanding English on a social level is different than understanding English on an academic level," he said.
Shalabi said Central Academy's teachers focus on going deeper to help their students understand the academic English language and work to establish a cultural comfortability at the school where it's OK to not understand how a test question is worded. Teachers work with students to break down the test-taking barriers their English-language learners experience.
"This is kind of overlooked in a traditional school system, where class sizes are large and not everyone is on the same (playing field). So often our kids can fool the system at another school because they have that social language down," Shalabi said.
Central Academy's test scores, generally speaking, are below average. On the 2011 Michigan Education Assessment Program (MEAP) exam, 39.1 percent of Central Academy's third-graders scored proficient, compared with 62.4 percent across the state.
While Shalabi acknowledged the school's dismal test scores, he said what his staff members look at are the gains children are making. Typical improvement on the ACT, for example, is for students to jump up by a point or two after taking the exam a second time, Shalabi said.
"It is not unusual for us to see our students jump up four, five or six points," he said.
The Michigan Department of Education also recognized in August Central Academy's commitment to improvement. Central was designated as a Reward School while so many of the Ann Arbor Public Schools were named Focus schools for achievement gaps between their top and bottom performers. The Reward School designation was given to Central Academy due to it being in the top 5 percent of schools making the greatest gains in achievement.
Ann Arbor school board President Deb Mexicotte said she was encouraged to learn AAPS was placed on Bridge Magazine's lists of value-added affluent and traditional schools.
She said for Ann Arbor to make the affluent schools list is especially noteworthy because it has a more diverse student population — both ethnically and based on families' incomes — than some of the other districts on the top-10 list.
"So that's almost even a stronger recommendation for us," she said.
Mexicotte said the new set of rankings is definitively good news for AAPS. But she added as a decision maker, it's important not to be too thrown off course by the plethora of new rankings and titles (such as the Focus School designation) that have come out during Michigan's extensive education reform conversation.
"I think this does a couple of things," Mexicotte said. "It gives us an opportunity to reflect on what we're doing … and to look at ourselves in new ways. … It's certainly helpful to pace yourself against your peers to see where you can learn and do better."
She said it also gives AAPS the opportunity to celebrate what it's good at and it's nice to see an outside organization affirming what she already knew about AAPS being a good value.
"Even as underfunded as we are and with the constant assault on public education … we are changing lives and creating opportunities for our students," she said. "… So much of the discourse about public education is negative and not deserved. We have to grab the positive when we can get it."
French said Bridge Magazine hopes this study will add to the current conversation on education reform and teacher evaluations that is taking place in Michigan.
"It raises the question about whether raw test scores are the best way to measure an effective teacher," he said. "I highly doubt that every teacher in Bloomfield Hills should be given raises and every teacher in Detroit should be fired. I would doubt that's true…
"We're hoping that parents can look at this, have a searchable database, and get a good sense of where and which schools are doing the most to improve the scores of their students," he said. "And that schools and the people that run schools can get a sense of what lessons they can learn from others."
Danielle Arndt covers K-12 education for AnnArbor.com. Follow her on Twitter @DanielleArndt or email her at daniellearndt@annarbor.com.