Posted on
Tue, Mar 22, 2011 : 5:59 a.m.
Labor committee chairman disputes accuracy of claims made by Ann Arbor police officers union
By Ryan J. Stanton
Ann Arbor City Council Member Stephen Rapundalo used Monday night's council meeting as a platform to publicly respond to recent comments by the city's police officers union, including allegations that high levels of radon and asbestos in the old police department inside city hall have triggered a higher-than-normal need for health care for city officers.
The union has identified that as a reason for not wanting to make changes to its current health care structure, a concession the city is seeking in labor negotiations.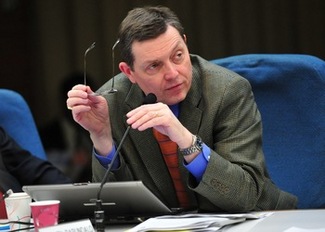 Ryan J. Stanton | AnnArbor.com
"There is no evidence to support the union's contention that they have a higher need for health care because of the building in which they were housed," said Rapundalo, D-2nd Ward and chairman of the council's labor committee.
"More importantly, if there was a demonstrable link, the conditions would be considered as compensable under the Worker's Compensation Act, and any employee who could substantiate a claim would receive their full medical coverage pursuant to that act, and not under the city's health care plan."
Rapundalo also disputed claims that the city has reduced or sought to reduce the union's health care benefit levels, saying that's simply not true. He pointed out that other labor groups in the city have made the switch to the new health care plan and have not seen a drop in benefit levels — they're just sharing more of the cost now.
"For the groups who have already agreed to the new health care plan, the benefits coverage remains the same and, in fact, is even enhanced in some instances such as preventative care, where the per-person wellness coverage has been increased from $750 to $1,000," he said. "The city has not sought a reduction in benefits, but rather is requesting that employees share in the ever-increasing cost and risk of health care, both now and in retirement."
A representative of the police officers union could not be reached for comment Monday night.
Rapundalo took issue with other statements by union officials in which they said police officers are sensitive to the city's budget woes and that's why they aren't asking for a pay raise.
"If the union thinks that forgoing a wage increase during this budget crisis is a fair sacrifice, then they really haven't been paying attention," Rapundalo said, noting other labor groups have not only agreed to new health care plans, but also have given up longevity bonuses, uniform allowances and 457 plan contribution matches, and have increased pension contributions.
Under the current agreement with the police officers union, Rapundalo argued in his comments, officers still are receiving step increases based on years of service, as well as all the previously negotiated benefits, which equates to a 3.5 percent increase in costs next year — at the same time as the costs for other groups are going down, he said.
Rapundalo has publicly spoken out at City Council meetings about the city's struggles in labor negotiations multiple times this year now. He said the fact that the city is asking for concessions right now doesn't mean the city is calling into question or criticizing previous contracts.
"The fact of the matter is that we recognize that both sides negotiated in good faith for those agreements based on their needs at that time," Rapundalo said, though he noted economic circumstances facing the city have changed in the last two or three years.
"What the city is asking for in terms of concessions in future contracts now is really a reflection of today's economic reality," he said.
Ryan J. Stanton covers government and politics for AnnArbor.com. Reach him at ryanstanton@annarbor.com or 734-623-2529. You also can follow him on Twitter or subscribe to AnnArbor.com's e-mail newsletters.