Posted on
Wed, Jan 19, 2011 : 6:02 a.m.
Ann Arbor officials tapping state mediators to help reach new bargaining agreements with unions
By Ryan J. Stanton
Ann Arbor officials are asking the city's labor unions to make shared sacrifices to help close a $2.4 million budget shortfall for the next fiscal year starting July 1.
City Council Member Stephen Rapundalo, chairman of the council's labor committee, gave a detailed report Tuesday night on the status of negotiations with the city's bargaining units.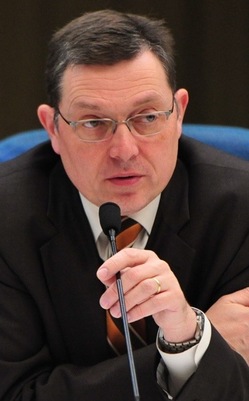 Ryan J. Stanton | AnnArbor.com
"The city, for its part, is continuing to negotiate with all of its unions in good faith to achieve agreements which assist the city in achieving its financial goals," said Rapundalo, D-2nd Ward.
"In upcoming council meetings, I'll be doing further updates and also highlighting what the current contracts' elements are, so the public can better understand what they currently have and what we are trying to seek in terms of concessions."
Rapundalo said the city and the firefighters union have been negotiating since February 2010 on a new agreement and have used the services of a state mediator on three occasions.
The previous agreement with the firefighters union expired June 30.
In negotiations with the police, Rapundalo said the city now has filed a Public Act 312 petition to begin the process of binding arbitration with the Ann Arbor Police Officers Association.
"The parties are in the process of choosing the arbitrator who will handle the Act 312 hearing," he said, noting the last contract expired June 30, 2009. "And you'll remember that the last negotiation with the AAPOA also ended in binding arbitration."
The city also is negotiating with the police service specialists, as well as the city's chapter of the Command Officers Association of Michigan. Both groups' contracts expired June 30, 2009.
"The city has continued to negotiate with the COAM — the police sergeants and lieutenants — and has requested that a state negotiator assist with those negotiations," Rapundalo said.
The collective bargaining agreement with AFSCME, the city's largest labor union, runs through June 30, 2011. The city has requested to begin bargaining with the group but has not yet received a reply from AFSCME leaders, Rapundalo said.
Rapundalo, whose frustration over lack of progress in labor negotiations has grown increasingly apparent in recent months, gave credit to the city's two deputy police chiefs — represented under Teamsters Local 214 — for agreeing to concessions last July, along with the Teamsters Civilian Supervisors and Teamsters Police Professional Assistants.
Though those units represent only a handful of the city's 500-plus union employees, the concessions are saving the city thousands of dollars and include new healthcare plans, increases in employee pension contributions and wage freezes. The city's non-union employees have made similar concessions, though they didn't have a choice.
Rapundalo cited several examples Tuesday night of other communities in Michigan where employees have stepped up to the plate to help cut costs.
In Royal Oak, the members of the Professional and Technical Employees Association agreed last summer to begin paying a 10 percent premium for healthcare and increased their contributions to the pension fund.
In Warren, the AFSCME bargaining unit agreed to a contract in October with a freeze in wages and a new health care plan with higher deductibles and increased co-pays.
In Mount Clemens, department heads have taken a 5 percent salary cut.
In Shelby Township, firefighters agreed to a contract with no pay increases through 2013 and changes to their health care plans.
Canton leaders plan to close the township hall for 12 unpaid furlough days this year.
In Macomb County, the clerk, treasurer and board of commissioners offices were closed throughout the Christmas and New Year's holidays using unpaid furlough days.
In Novi, the police command union agreed to wage and benefit cuts equal to $4,000 per person, and firefighters agreed to work 12-hour shifts as a way to save money.
Saline's two police unions, members of Teamsters Local 214 and non-union employees agreed to concessions that will save the city about $190,000 in health care costs in 2011.
Mayor John Hieftje said the city has struggled to make headway — particularly in negotiations with its police and fire unions because of Public Act 312, a state law that requires binding arbitration to resolve disputes between public safety unions and local municipalities.
"Certainly, I know across the state that Act 312 has been getting in the way. You can talk to any mayor in this state and they'll tell you that Act 312 needs to change," said Hieftje, who has been pushing for legislative reforms to the law. "We are negotiating in good faith and we are following all of the rules and procedures, but the playing field is not level."
Hieftje said the budget situation for Michigan cities is only becoming more grim as state lawmakers search for ways to address a state budget deficit of at least $1.8 billion.
If the Legislature is going to make further cuts to state revenue sharing, Hieftje said he hopes lawmakers at least pass reforms to Act 312 to allow cities like Ann Arbor to "find some equity" and bring benefit packages for police and fire unions in line with other labor groups.
An AnnArbor.com investigation last year showed that the average Ann Arbor city employee paid only 6 percent of the $981 monthly cost of his or her health benefits in 2009. Across the marketplace, the average monthly cost was $532, and employees typically picked up 41 percent of that amount, according to records obtained by AnnArbor.com.
A closer analysis suggests Ann Arbor paid $5.8 million more for health insurance in 2009 than it would have if its benefit plans were in line with the rest of the marketplace.
Ryan J. Stanton covers government and politics for AnnArbor.com. Reach him at ryanstanton@annarbor.com or 734-623-2529.