Posted on
Thu, Oct 27, 2011 : 5:59 a.m.
Jane Lumm gets support from unruly crowd at candidate debate against Stephen Rapundalo
By Ryan J. Stanton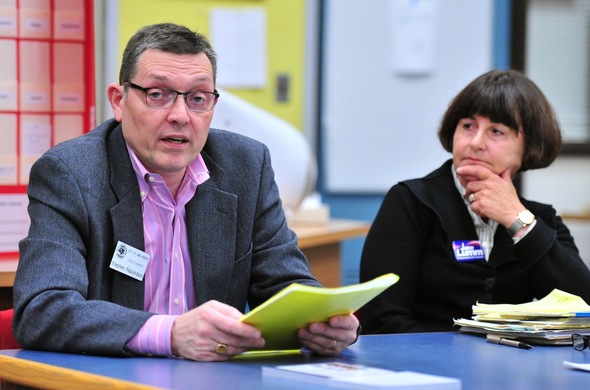 Ryan J. Stanton | AnnArbor.com
The gloves came off in the first round Wednesday night as
Stephen Rapundalo
and
Jane Lumm
traded blows in a
neighborhood candidate forum
at Thurston Elementary School.
Lumm, who is challenging the Democratic incumbent for his 2nd Ward seat on the Ann Arbor City Council on Nov. 8, used her opening statements to call Rapundalo a liar and told the nearly 60 residents in attendance they deserve better representation.
"You also deserve the truth from us and, unfortunately, Stephen's strategy appears to be to toss a bunch of false claims and nasty accusations on the wall in the hopes that something might stick," Lumm said, defending herself against claims that she opposed recycling and human services as a Republican on council in the 1990s.
"I seriously doubt the Sierra Club would be endorsing me if I were anti-recycling and anti-environment," she said. "And I doubt that former city human services director Eileen Ryan would be saying the positive things she's saying about me if I were anti-human services."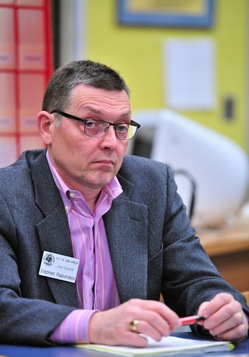 Ryan J. Stanton | AnnArbor.com
Rapundalo didn't respond to those specific remarks from Lumm. Instead, he stuck to script in his opening statements and talked about his accomplishments on council, drawing distinctions between him and Lumm.
"For me, this election is really all about who can best lead Ann Arbor forward," he said. "The city is facing some real economic challenges, but unlike many other communities in the state, our finances and outlook are actually in good order."
Lumm, who is running as an Independent, had the help of an unruly crowd Wednesday night. On several occasions, residents mocked Rapundalo, scoffed at his statements and accused him of twisting the facts.
"Stop lying," local attorney Tom Wieder, a supporter of Lumm's campaign and former vice chairman of the Ann Arbor Democratic Party, called out from his seat at one point.
After a few exchanges between the attorney and Rapundalo, Wieder had to be hushed by Lumm, who later expressed regret about the incident.
Wieder's comments came after Rapundalo suggested expensive labor contracts approved by council in the '90s came at a time when there were more Republicans than Democrats calling the shots. Rapundalo clarified he meant at a committee level.
"I don't know where to start," Lumm responded, noting there were only two or three Republicans on council. "There was never any Republican majority on any committee, on any board, and we had lots of them. So I was never part of any majority ever."
In response to Lumm's claim there was never a Republican majority on any committee, Rapundalo's campaign provided minutes from a Nov. 18, 1996, council meeting. The minutes show three Republicans, including Lumm, and two Democrats were appointed to the five-member labor negotiating committee that worked on contracts that were eventually approved by Lumm and fellow council members several months later. Rapundalo argues they included overly generous pensions and health benefits that required no employee contributions.
Wednesday's forum was hosted by the Orchard Hills-Maplewood Homeowners Association, which Rapundalo used to lead. Both candidates took turns fielding questions from the audience, the first of which touched on the 18-hole Huron Hills Golf Course.
The city entertained and ultimately rejected a proposal from Pittsfield Township-based Miles of Golf last year to privatize management of the city-owned course. It involved building a new golf center and driving range on the property, while converting Huron Hills to a 9-hole course.
The proposal had caused concerns among residents who feared the city might be jeopardizing valuable natural areas while putting the city at financial risk.
"I've been a solid supporter for keeping Huron Hills as a golf course," said Rapundalo, who sat on the committee that considered the proposal to privatize it. Rapundalo noted he never supported or would have even contemplated selling Huron Hills.
"Certainly, as chair of the Golf Advisory Task Force, I've worked very hard with others to see that we could improve the golf operations," he said. "And in fact, over the last three years, that has happened. Revenues have increased not only at Huron Hills, but at Leslie."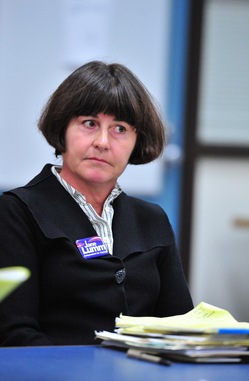 Ryan J. Stanton | AnnArbor.com
Lumm said she's been heavily involved in trying to save Huron Hills over the last six years. She was one of many residents who spoke before council asking that the city not issue the request for proposals that led to the Miles of Golf plan to develop part of the property.
"I got no response from any of the council members to the appeals that were made, not just by myself, but many people," she said, adding it's her opinion the city was trying to skirt a city charter provision that requires voter approval for the sale of city park land.
"This all occurred under Stephen's watch," Lumm said. "We got a land appraisal on the property a number of years ago. We don't do that for our parks. There's just so much evidence that this was under consideration and, if you really believe in protecting city parks, you don't turn a blind eye to these things. I certainly would not have done that."
Lumm said she's asking for support for her campaign in order to refocus city spending on basic services and reconnect city government with residents.
"In financially challenging times, the city simply can't afford everything," she said. "It's about choices and priorities. And while many of us believe the city should be targeting our tax dollars on getting basic services right — police, fire, parks, streets and infrastructure, and maybe even picking up the leaves — we don't see that happening."
Instead, Lumm said, residents see a city government that builds new city hall additions and diverts precious capital dollars to public art, while spending time on pedestrian safety and idling ordinances rather than on more pressing problems.
Rapundalo contended the council has focused diligently on priorities for the budget, including basic services and long-term infrastructure improvements.
"Now it hasn't been easy," he said. "But we've managed it, I think, pretty well. And so Ann Arbor enjoys a very good fund balance, top bond ratings, clean audits and many quality of life accolades. And I, for one, haven't adopted a hunkered-down mentality."
Rapundalo defended the Percent For Art Program, which sets aside 1 percent of the money spent on capital projects for public art. Lumm called it a misplaced priority.
"I know people who support this talk about the economic benefits. I don't doubt that," Lumm said. "It's about the funding mechanism, the funding source. We have lots of public art in the city of Ann Arbor. It's all been donated. I think we should look at those opportunities."
Ryan J. Stanton | AnnArbor.com
More than $2.2 million from the city has been dedicated to public art over the last four years. Rapundalo argued public art is an important economic development tool.
"I work in the high-tech industry and people want to be in communities that are vibrant, that offer much in the way of cultural arts and so forth," he said. "And to retain that kind of talent in this day in age, for this kind of community, it's important that we make that kind of investment, and it's actually rather inexpensive to do so with the public art program."
Rapundalo also emphasized his strong support for the Fuller Road Station project, a $121 million vision for a new transit center in front of the University of Michigan medical campus. He sounded confident state and federal funds will help cover those bills.
"What's you've described, Stephen, sounds utopic, and I'm convinced that it is," Lumm said, drawing a laugh from members of the audience.
"Today I think we are, in large part, bearing an expense that comes with way too many unanswered questions," she said. "I have yet to see a business plan."
In response to a question about the controversial City Place apartments saga, both candidates expressed regret that an alternate project known as Heritage Row, which Rapundalo and a majority of council supported, won't be going forward.
The fact that seven century-old homes are likely to be torn down to make way for student apartments in a near-downtown neighborhood is a terrible outcome, said Lumm, who said she wished council had been more diligent in working on a solution over the past year.
The candidates took different stances on the city's proposed sidewalk repair millage that's on the Nov. 8 ballot. Rapundalo said he supports the tax, which amounts to less than a $15-a-year increase for the average homeowner, but Lumm said she's opposed to it.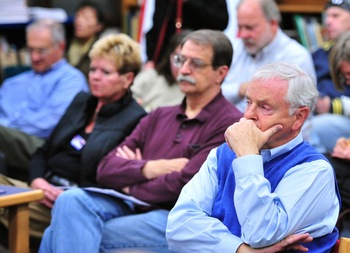 Ryan J. Stanton | AnnArbor.com
The extra $563,000 a year generated by the millage, Rapundalo argued, is needed to shift the burden of sidewalk repairs away from individual property owners and back to the city. Currently, residents and businesses are required to fix crumbling sidewalks in front of their properties, often at a cost of about $125 for every 5-foot-by-5-foot slab.
Rapundalo used his closing remarks to point out what he believes to be a fundamental difference between him and his opponent. He characterized Lumm as a naysayer and said she takes the approach of not thinking about the city's future.
Lumm took exception with a statement Rapundalo made about investing in public safety. She said Rapundalo talks a good game, but for the last six years he's done anything but prioritize public safety as the council has eliminated dozens of jobs in police and fire.
She said she's been talking to experts in the community, including people who have served in senior levels in the Ann Arbor Police Department, and they're very concerned.
"And if they are concerned, well, so am I," she said.
Lumm hasn't had a job since she left council in 1998, but she's been involved on a number of nonprofit boards and foundations, including the Ann Arbor/Ypsilanti Area Chamber of Commerce Public Policy Committee before stepping down in August. A native of Pennsylvania, she holds an English degree from Ohio Wesleyan University.
Rapundalo, whose background is in pharmaceutical research and development, is president and CEO of Ann Arbor-based MichBio, the state's life sciences association. A native of Canada, he holds a Ph.D. in physiology from Virginia Commonwealth University and completed his postdoctorate in pharmacology and cell biophysics at the University of Cincinnati.
"There's important work still to be done to ensure Ann Arbor remains the economic beacon for Michigan," said Rapundalo, describing himself as a recognized high-tech industry leader who understands the community and brings strong analytical skills to the table.
Ryan J. Stanton covers government and politics for AnnArbor.com. Reach him at ryanstanton@annarbor.com or 734-623-2529. You also can follow him on Twitter or subscribe to AnnArbor.com's e-mail newsletters.