Posted on
Tue, Aug 30, 2011 : 2:29 p.m.
New scaffolding at Ypsilanti's Thompson Block: Temporary until building is painted
By Tom Perkins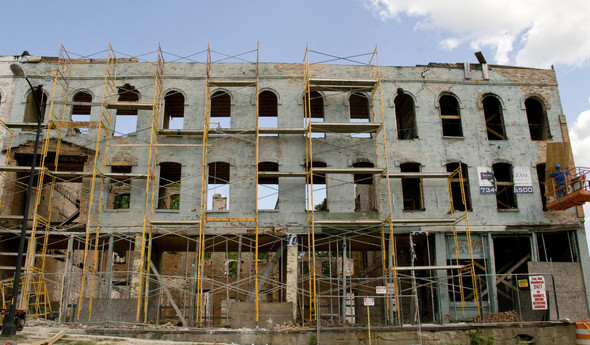 Scaffolding at the Thompson Block is back up and rumors of the building's impending structural demise are swirling, but developer Stewart Beal says his building is sound and the new scaffolding is only there for cosmetic purposes.
Painters will use the scaffolding as they cover the building by Friday in its new, uniform color.
It's not, Beal said, a sign of structural weakness.
"Hurricane Irene couldn't blow that thing down," Beal said.
Per a consent judgment that ended months of court ordered facilitation between the city and Beal over the 148-year-old building's fate, Beal is to have the windows sealed and building painted a uniform color by Friday.
Beal underscored that there are no new structural cracks or issues with the Thompson Block.
He said his photos prove it hasn't shifted since the morning of the Sept. 23, 2009, fire that gutted it.
The scaffolding is also out of Rivers and Cross Street, though the intersection was closed Tuesday for road work.
And what color will work crew paint the Thompson Block by the end of the day Friday?
Red.
More specifically, "historic terracotta," which Beal said the painter selected.