Posted on
Thu, Jul 15, 2010 : 3 p.m.
Ypsilanti City Council ordered to next facilitation session in Thompson Block dispute
By Tom Perkins
A judge ordered the entire Ypsilanti City Council to be present at the next facilitation session between the city and Historic Equities Fund 1 LLC, which owns Depot Town's Thompson Block building.
The order came after the latest salvo in the dispute between the city and developer Stewart Beal, a member of Historic Equities, on how to renovate 148-year-old structure that burned in a suspected arson case last September.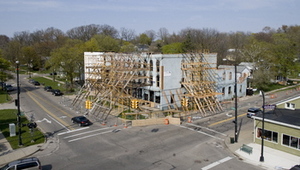 Attorneys for both sides remained in the judge's chambers for nearly two hours during a hearing on Wednesday but failed to come to any sort of agreement.
Washtenaw County Circuit Court Judge Donald Shelton ordered the two sides into facilitation in May, with retired 14-B district judge John Collins serving as the facilitator. An original deadline of June 18 yielded no results, and Assistant City Attorney Karl Barr said the negotiations had "lost traction" by the latest deadline.
No new court date or deadline has been set.
Barr said the move to bring the entire council into negotiations at the courthouse isn't entirely uncommon. He said the intent is to put everyone involved face to face instead of relaying their positions through an attorney, thus increasing the chances for compromise.
"I am understanding of the process, but I would like to echo my client's concern as to the speed of a result," Barr said.
Beal said the drawn out litigation demonstrates a lawsuit isn't the quickest path to a settlement.
"It's disappointing that the city continues down this path, and it's becoming embarrassing for them at this point," he said.
The city has hired an independent architect and engineer who have worked on the building in the past to determine its condition. Barr said if the structure is found to be in danger of collapse, it will not prompt any immediate action and will only strengthen the city's case.
Beal's employees have been removing debris from the building in recent days. Beal said the work will help assess the building and will be done by the end of the week.
Tom Perkins is a freelance writer for AnnArbor.com. Reach the news desk at news@annarbor.com or 734-623-2530.