Posted on
Wed, Feb 6, 2013 : 9:59 a.m.
SUV crashes into downtown Ypsilanti radio station
By Kody Klein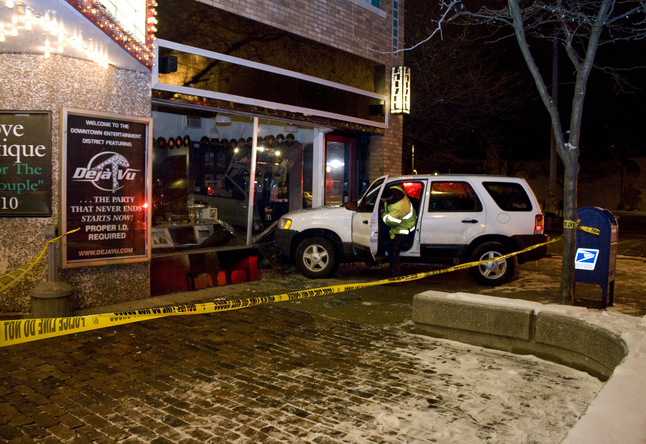 Photo courtesy of Katherine de Fuccio
Editor's note: this story was updated at 11:10 a.m. with information from the Ypsilanti Police Department.
A two-car accident did extensive damage to the AM 1700 storefront at about 1:30 a.m. Wednesday, according to Lt. Mike Kouba of the Ypsilanti Fire Department.
"The whole storefront is gone--it's pretty intense," said
Brian Robb
, a city council member and operator of the station. "...Everything that was in the window is now in the back of the room."
Kouba said the crash involved a Ford Escape and a Ford Fusion.
Sgt. Brent Yuchasz of the Ypsilanti Police Department said one of the drivers was arrested for drunken driving, but was unable to specify which driver.
Robb said he arrived on the scene about 20 minutes after the collision, but saw what happened on the surveillance footage.
According to Robb, both cars may have run through stop signs at the intersection of Pearl and North Washington. The Fusion was heading south on North Washington and pushed the Escape, which was heading west on Pearl, into the station's storefront.
No estimate of the building damage was immediately available, and Kouba said no injuries were reported.
"It took a long time to board up and clean up all of the broken glass," said Robb, who leases the space.
This is the second time in the last two months that an automobile has crashed into a storefront along this block. A truck crashed into the storefront of Bona Sera Cafe in early December.
AM 1700 is a community radio station that plays music.
Kody Klein is an intern for AnnArbor.com. Reach him at kklein@mlive.com