Truck crashes through door, but Ypsilanti restaurant opens on time
Posted on Thu, Dec 13, 2012 : 7:15 p.m.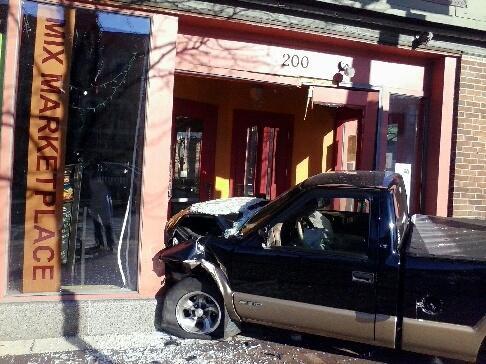 Ypsilanti Fire Department photo
Annette Weathers, co-owner of Bona Sera Cafe in Ypsilanti, was preparing to open the restaurant as usual shortly after 10:30 a.m. Thursday when she heard a deafening crash.
"It sounded like a cross between an earthquake and a monster truck rally," she said.
In fact a pickup truck had just come crashing into the front door of the restaurant at the intersection of Michigan Avenue and Washington Street.
Her first thought was that an employee had dropped something and toppled a piece of equipment.
"Then you look up and see a truck in your lobby," she said.
The truck smashed the door and the front vestibule. But though it was less than half an hour until opening time, the restaurant welcomed customers at 11 a.m. as usual.
By sometime in the afternoon, the door that was broken and the damaged wall were all boarded up. The restaurant was still accessible through a door on Washington Street though.
"The landlord responded incredibly fast," said Weathers.
The force of a collision between a car and the truck pushed the vehicle into the building, Ypsilanti Fire Chief Jon Ichesco said. Ypsilanti police said the truck driver, a 36-year-old man fled the accident scene on foot but was arrested a few blocks away.
Ichesco said it looked as if the car was trying to go west on Michigan Avenue as the truck was heading north on Washington. The truck driver tried to turn onto Michigan Avenue and his vehicle was hit by the car, which then pushed the truck into the building.
Customers have been good-natured about the damage. A few have made some amusing quips, including this one: "You know, it really opens the place up."
And this one, which Weathers actually put on a sign: "Drive-in service will be discontinued until further notice."