Posted on
Sat, Jul 23, 2011 : 1:38 p.m.
Saturday's weather - a balmy 85 - proves a relief for last day of Ann Arbor Art Fair
By Lisa Carolin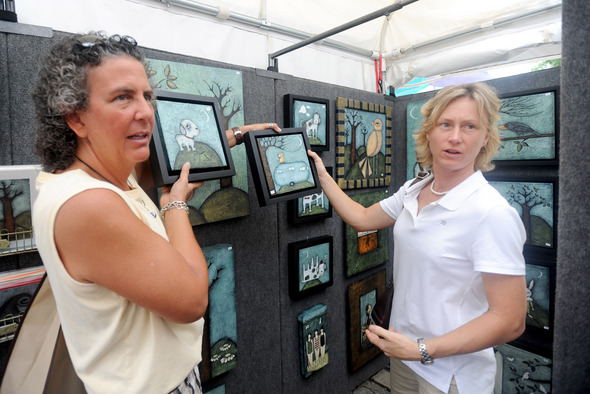 Angela J. Cesere | AnnArbor.com
A strong finish to a slow start may have helped the numbers at this year's
Ann Arbor Art Fair
, which saw searing heat for much of the week and a smaller crowd on Thursday.
Morning rain followed by sun and milder temperatures in the 80s Saturday finally brought relief to the more than 1,100 artists and hundreds of thousands of visitors at the 52nd annual event, which wraps up at 6 p.m.
"Even though the weather has been a challenge, people haven't let it hold them back," said Debra "Max" Clayton, executive director of the Summer Art Fair, one of four fairs that make up the event. "The only thing that was different this year were the high heat hours Thursday afternoon, but Friday night there was a huge crowd. I would be hard pressed to say there were fewer people over all."
The fair typically attracts about 500,000 people over its run.
Clayton says that although food sales may have been down because people tend to eat less in hot weather, vendors sold a lot of water. She and the other directors agreed that people who braved the heat were serious shoppers.
"We have an amazing number of dedicated art buyers and serious art collectors," said Maureen Riley, executive director of the Street Art Fair, which was established in 1960 and is the original Art Fair. "A lot of people made up Friday night for a lost day Thursday."
Artist Jim Schulz, who specializes in pottery and ceramics, had a booth at the Street Art Fair this year. He blamed the heat and the economy for weaker sales than he remembers when he last had a booth from 1994-2003.
"My sales are down, but there are people making sales," said Schultz. He was referring to the booth next to his, run by 88-year-old potter J.T. Abernathy, a veteran artist of all 52 Street Art Fairs.
"I call him the 'godfather of clay in Ann Arbor,'" said Schultz. "Nine years ago, he would sell out in two days. This year he still has pieces left to sell."
At the South University Art Fair, bronze sculptor Matt Budish has been doing good business this year.
"I'm in my 11th year and it's been fabulous," he said. "Mornings have been the strongest part of the day. It's been quieter in the afternoon but has picked up at night."
"Every year some artists do extremely well, and some don't do well," said Maggie Ladd, director of the South University Art Fair. "Sometimes a certain medium doesn't sell well. There's no accounting for taste."
It's up to the individual artists to report back their sales, which makes it difficult to compare the number of sales from year to year. Attendance estimates will be compiled from parking lots and shuttle services over the next few weeks. Directors said they thought this year brought as many people as ever, except for a lighter day on Thursday, when temperatures climbed into the upper 90s.
"I gauge the crowd by how fast it takes me to get from one place to another," said Clayton, "and the only time it was noticeably different from years past was on Thursday afternoon."
The Art Fair is a huge boon for local businesses. A 2008 survey by Power Marketing found that hotels made $5 million and restaurants made more than $25 million that year during the fair. Meanwhile, this year's hot weather may have helped some businesses, as fair-goers took shelter in the air-conditioning.
"The heat brought people inside, which helped business for local merchants," Kathy Krick, director of the State Street Art Fair, said Saturday. "The crowds were back today. We've had years when Saturday is the make-up day, and I think we'll see a strong finish."
By late Saturday afternoon, the crowds were out in force.
It's incredible," said Clayton. "The streets have been packed all day and people are buying things."
She counted the day as a success overall.
"The Ann Arbor Art Fair is a one of a kind event thanks to the special synergy between the city, the fair-goers, and the artists," said Clayton. "Bottom line, the Art Fair was hugely successful this year."
Editor's note: This story has been updated with additional quotes from Debra "Max" Clayton.
Lisa Carolin is a freelance reporter for AnnArbor.com.