Posted on
Thu, Oct 11, 2012 : 2:59 p.m.
New report shows Ann Arbor schools narrowing achievement gap
By Danielle Arndt
A new student achievement report shows test scores are on the rise at Ann Arbor Public Schools and that long-standing achievement gaps between African American students and their Caucasian peers have begun to close slightly during the past five years.
But just as important as the numbers themselves is the new model Superintendent Patricia Green has put forward to compare data and create outcome-based benchmarks for measuring progress, district officials say.
Danielle Arndt | AnnArbor.com
Green and about 10 members of the district's instructional services team presented a comprehensive report on testing data to the
Board of Education
Wednesday night.
The bound report resembled a textbook in its thickness, and trustees jokingly referred to it as the "10-pound report."
The test data included, when possible, a five-year snapshot of scores from the following assessments: Michigan Educational Assessment Program, Michigan Merit Exam, Northwest Evaluation Association Measures of Academic Progress, College Readiness standards and the ACT.
Green said the district is starting a tradition with this report, which she called an "outcomes report." She said it will allow the district to benchmark itself against its past and future progress.
"Achievement is based on outcomes," Green said. "When we talk about achieving, we look at our outcomes. How are we doing? How are we measuring our progress? What is it that we still need to tweak here and there to continue to improve? … It informs the decisions we make in curriculum and instruction."
Green said in order to do this effectively and efficiently in the future, the district had to develop a meaningful way to bring the data forward for analysis. Green said this is what she means when she talks about helping to make the Ann Arbor Public Schools "data driven."
"We tried to take all the pieces of the data that normally would reside in many different files … and develop one document that we could utilize with our schools, our teachers, our principals and with our instructional staff," she said. "They need to know how we are doing, instead of having to always go search."
The achievement data revealed a pretty picture of Ann Arbor's student population as a whole from school years 2007-08 to 2011-12.
It shows that despite traditional achievement gaps among Ann Arbor's African American, special education and low income students, these AAPS kids are still proficient at rates of up to 20 percentage points higher than the state average on standardized tests, said Director of Student Accounting and Research Services Jane Landefeld.
Last year, the state implemented new cut scores for the MEAP and MME to reflect the increased rigor of public education nationwide. AAPS administrators applied the cut scores retroactively to student achievement data for 2007-08 to 2010-11.
"My observation is that as we look at the scores for reading and math for the various desegregated groups, obviously there is still a very significant gap … but it appears there has been some narrowing of the gap for reading and not as much narrowing of the gap for math," said Board Secretary Andy Thomas. "The conclusion I would draw from this is we need to put additional emphasis … on math instruction."
AAPS has more interventions in place for reading than math throughout the district, Flye said, and has been looking at how to increase support for mathematics.
On the reading portion of the MEAP assessment, the percentage of students in grades 3-8 who scored proficient or highly proficient increased by a few percentage points in each grade. The biggest improvement was a 5 percent increase in the sixth grade.
In looking separately at the African American cohort, the gains were much greater.
The percentage of African American students in grades 3-8 scoring proficient or highly proficient increased by 5 to 13 percentage points in each grade. The biggest improvement was in the fifth grade.
On the math portion of the MEAP, the gains overall were less. And in grades 5 and 8, there was virtually no change in the scores across the board. This indicates something is happening with math instruction during the transitional years between elementary and middle school and middle school and high school, Green said.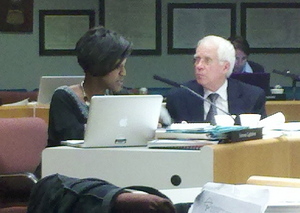 Danielle Arndt | AnnArbor.com
The one cohort that saw its scores drop substantially in the past five years on both the MEAP reading and mathematics assessments was English language learners.
Flye said this cohort, though the smallest in the district, will require some additional attention from the instructional team. The district clearly needs to look at beefing up its supports for this group of students, she said.
Landefeld said typically, there are only 30 to 50 students in the ELL category, which is for only those children who are not yet proficient in the English language. Once students become proficient, they are no longer counted in the ELL category for testing, Landefeld said.
While Trustee Simone Lightfoot was happy to see African Americans improving at AAPS, 73 percent of African American third graders still are not proficient in math, 66 percent of African American fourth graders are not proficient, and in seventh grade, that percentage is 75.
"I still want to be so wrong in the way I'm reading this," Lightfoot said. "…I'm less concerned with us beating out the state because … we always beat the state. I'm far more interested with other districts that are comparable to us and how they're doing."
Vice President Christine Stead echoed Lightfoot's sentiments about comparing the testing data to other schools, not just the state averages. She said she would even encourage district administrators to look for comparable districts nationally and globally.
"I think that's more useful to us because that's really how we see ourselves. We want our students to compete on a global level," she said.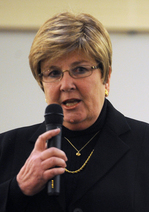 Green could not agree more with Stead and Lightfoot's sentiments. She said the benchmarks from the state of Michigan keep changing and shifting.
"We have to stay focused here in Ann Arbor on what it is that we in this community value … and make sure that we are looking at the benchmarks that are important for our youngsters here in Ann Arbor," she said. "All youngsters can succeed at all levels and all need a rigorous curriculum. … Maybe I am cynical but if you keep changing how you look at the data and you keep changing the benchmarks, then how do you measure success?"
Flye said among the next steps is an analysis of the district's programming to see why the patterns officials have observed in the data are occurring. Many of the next steps also directly coincide with the achievement and discipline gap elimination plans that Green put into place this past spring, Flye said.
The entire "10-pound" student achievement report will be uploaded to the district's website soon for parents and community members to peruse, Flye said.
Download a copy of the Powerpoint presentation that accompanied the report here.
Danielle Arndt covers K-12 education for AnnArbor.com. Follow her on Twitter @DanielleArndt or email her at daniellearndt@annarbor.com.