Posted on
Tue, Oct 4, 2011 : 2:07 p.m.
Ann Arbor's new PACE program could help finance energy efficiency upgrades in student rental houses
By Ryan J. Stanton
Ann Arbor's long-awaited PACE program is officially up and running following unanimous approval by the Ann Arbor City Council Monday night.
Standing for Property Assessed Clean Energy, the program is intended to help Ann Arbor property owners finance energy efficiency upgrades. An estimated $4 million in funding is expected to be available in the program's first phase.
"I know there are other cities waiting to see what we do here in Ann Arbor so they can pick this up and run with it as well," Mayor John Hieftje remarked before the council's 11-0 vote.
A representative of the nonprofit Clean Energy Coalition, which is under contract with the city to help implement PACE, confirmed Monday what some had hoped: In addition to commercial properties, multi-family dwellings with three or more units will be eligible for the program.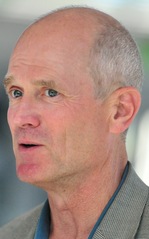 "Then that should apply to a whole lot of properties in Ann Arbor that we're going to be able to help out," Hieftje said in response.
That includes many of the off-campus student rental houses that surround the University of Michigan — houses notorious for being drafty and leaving tenants with high energy bills.
"This means we can really bring energy efficiency to these kinds of units, which will make a big difference in energy bills and also in our energy use and our carbon footprint," said state Sen. Rebekah Warren, D-Ann Arbor, who attended Monday's meeting.
Ann Arbor officials fought for the passage of the state's PACE legislation, which was sponsored by Warren and signed into law by former Michigan Gov. Jennifer Granholm last December.
The way the state law is currently worded, PACE financing isn't yet available to owners of single-family homes in Michigan, but Ann Arbor officials are hoping to change that.
Through the city's PACE program, which starts today, qualifying property owners will be able to borrow money for energy efficiency projects ranging from $10,000 to $350,000 and then pay back the loans through special assessments added onto their tax bills for up to 10 years.
The program is being set up so the estimated energy savings must be greater than the cost of the assessment, meaning it'll be immediate savings for the property owner. Projects can include everything from high-efficiency furnaces to solar-panel systems.
"What PACE does allow for is really low-cost financing," Warren said. "For a lot of property owners, that is a huge incentive to be able to make these kinds of updates, which will make it more affordable for our renters whether they're students or families."
The City Council passed a resolution of intent to establish a PACE program last month, stating that financing energy projects serves a valid public purpose by reducing energy costs and greenhouse gas emissions, as well as stimulating the economy and improving property values.
Andrew Brix, the city's energy programs manager, said in a memo to council that establishment of a PACE program is a foundational component in meeting the city's goal of an 8 percent reduction in communitywide greenhouse gas emissions from 2000 levels by 2015.
Warren said she and many other local officials worked hard on bringing PACE to Michigan, so Monday's approval of the first local program was exciting to watch happen.
"I think it won't take very long for the community to see how beneficial this will be," she said. "And I'm looking forward to being able to show the commercial success so that we can go back and amend the state law to include residential properties, because I think there are a lot of homeowners that would take advantage."
Conan Smith, chairman of the Washtenaw County Board of Commissioners and Warren's husband, addressed council members regarding PACE at Monday's meeting.
"This is one of the best things that we can be doing for businesses anywhere in the state," Smith said. "The fact that Ann Arbor is on the forefront of this public policy is something you should all be very proud of. When we look at economic development into the future, the green economy is going to be a critical component of that. And making sure that our businesses have a means to participate in it is going to be equally important for us."
Smith said county officials will be paying attention to Ann Arbor's PACE program and taking notes, with hopes of expanding it throughout the entire county.
"We could take the work that you've done, the knowledge that you're bringing to Washtenaw County, and expand it across our entire footprint," he said.
Ryan J. Stanton covers government and politics for AnnArbor.com. Reach him at ryanstanton@annarbor.com or 734-623-2529. You also can follow him on Twitter or subscribe to AnnArbor.com's e-mail newsletters.