Posted on
Thu, May 16, 2013 : 5:19 p.m.
University of Michigan student body president calls for more collaboration following new football seating policy
By Kellie Woodhouse
University of Michigan's new student body president told the school's Board of Regents that he and other students are not happy about a new seating policy that will be introduced at home football games in the fall.
Instead of seat placement assigned by seniority, seating in the student section at Michigan football games will now be first-come, first-serve.
"The students are upset to say the least, they feel that the athletic department broke its long-held social contract with the students," said Michael Proppe, Central Student Government president for the 2013-14 academic year.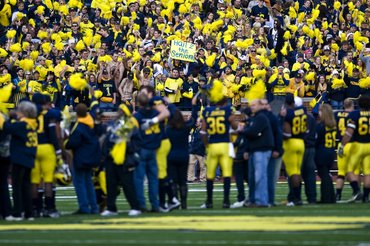 Proppe asked for more collaboration between students and university leaders during a Thursday public Board of Regents meeting at U-M's Dearborn campus.
The athletic department changed the student seating policy to encourage students to show up earlier for games. Student turnout has been a challenge in recent years, with particularly low turnouts for kickoff at noon games.
U-M athletic director Dave Brandon approximated that at Michigan's home game against Northwestern on Nov. 10, 2012, 7,000 of the 22,000 student ticket holders didn't show up for the game at all and even more were late.
"It's just a downer for our team to charge out of the tunnel and see the student section half-empty," he said at an April 29 faculty senate committee meeting. "I'd like to believe that they're all studying but you and I have been up and down State Street enough to know that our students have a lot of choices."
Several Big Ten schools use a general admission practice for student seating, including Michigan State University and Penn State University.
Proppe said while he understands Brandon's reasoning, he thinks students should have been consulted on the change.
"I wish the first step had been going to students and saying 'how can we get you to show up on time?'" Proppe said. Brandon has been informally encouraging students to show up early since the 2011 season.
Proppe asked the board and university administrators to seek student opinion in future initiatives. He mentioned the upcoming presidential search to replace Mary Sue Coleman, who is retiring in July 2014, as an example.
"The university is going through some significant changes in the coming years," he said. "Central Student Government as the voice of the students would like to set a precedent of student input."
Along with changing the seating policy, the athletic department also increased student ticket prices from $32.50 to $40 per game.
Kellie Woodhouse covers higher education for AnnArbor.com. Reach her at kelliewoodhouse@annarbor.com or 734-623-4602 and follow her on twitter.