Posted on
Sat, Apr 30, 2011 : 1:12 p.m.
Many students not wowed by Rick Snyder's commencement speech inside Michigan Stadium
By Ryan J. Stanton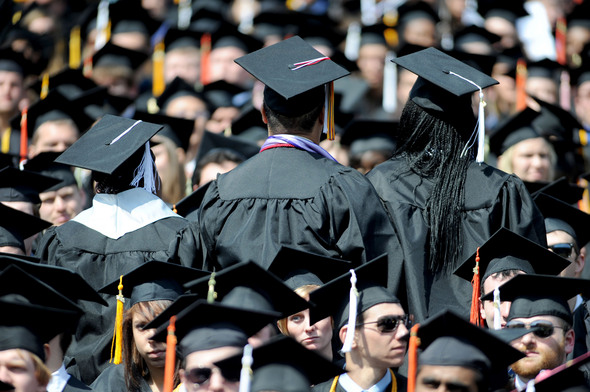 Angela Cesere | AnnArbor.com
(Editor's note: This story was written by AnnArbor.com's Nathan Bomey and Ryan Stanton.)
Student reactions to Gov. Rick Snyder's commencement speech today at the University of Michigan were mixed, with some saying they were moved and others just plain bored.
And the fact that a small handful of the 5,500 graduates stood and turned their backs on the Republican governor as he spoke didn't sit well with some.
"I thought they could have at least gone in the aisles to do it or not shown up at all because it's not just their graduation. It's ours, too," said Stephanie Ozomaro, who said her view was obstructed because of a girl who stood up in front of her to protest Snyder.
Ozomaro, who received a degree in psychology, said she came to hear President Barack Obama deliver the commencement address last May and Snyder's speech didn't compare.
"I was really bored," she said of Snyder's message. "I mean, I don't know anything about the governor because I'm from California."
Few students who spoke with AnnArbor.com seemed aware of Snyder's policies or the fact that he has proposed more than $200 million in cuts to higher education.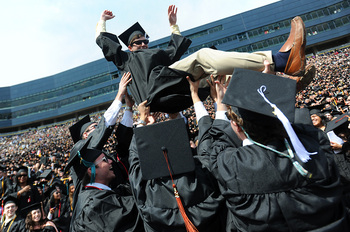 Melanie Maxwell | AnnArbor.com
Santosh Kumar
, an aerospace engineering graduate, said he was surprised that some students weren't happy with the governor's appearance at U-M.
"It was interesting how it was received," Kumar said. "There were lots of people around me that weren't too happy with the governor. I'm not sure where that's coming from. I'm not too familiar with his policies."
Phillip Cervantes, who received a degree in ecology and evolutionary biology, said he thought Snyder delivered a fine speech.
"The part about 'the leaders and best,' the part he actually wanted us to remember, I do remember," he said. "So I think that will stick with me for a long time."
Cervantes also said he found it rude that some students — about two dozen in all — stood up and turned their backs on Snyder, who has proposed deep cuts in university funding.
"I mean, it is kind of a tradition for the governor to speak, so I did think it was rude for them to turn their backs," he said. "But then again, it is their choice."
The most popular parts of the 18-minute speech seemed to be the first half, when Snyder drew laughs for his references to his time living in U-M dormitories and working various jobs.
"I liked the speech. I wish it could have been a little shorter," said U-M grad Chris Chaisson, standing on the 40-yard line after the ceremony finished. "I enjoyed him talking about his experiences (at U-M)."
Chaisson, who is graduating with a bachelor's degree in screen arts and culture, said he was "not happy about" the governor's proposal to eliminate the state's aggressive film tax incentives policy and replace it with a capped pool of $25 million for incentives every year.
"Film was on its way to growing here because the incentives were the largest in the country," he said. "I know for a fact that many people who were going to stay in the state are now thinking about going to L.A."
Michael Rossi, who double-majored in English and economics and is now going to work for tech company MyBuys in Ann Arbor, said he didn't find the speech very inspirational.
"I thought the governor related to the students and talked about himself as a student in a non-condescending way, but I didn't think the speech was as inspirational as I would have hoped," he said. "I don't think he presented as much advice as I would have wanted."
Ryan J. Stanton covers government and politics for AnnArbor.com. Reach him at ryanstanton@annarbor.com or 734-623-2529. You also can follow him on Twitter or subscribe to AnnArbor.com's e-mail newsletters.