Posted on
Mon, Dec 17, 2012 : 5:57 a.m.
EMU campus patrol services increases presence following student's death
By Erica Hobbs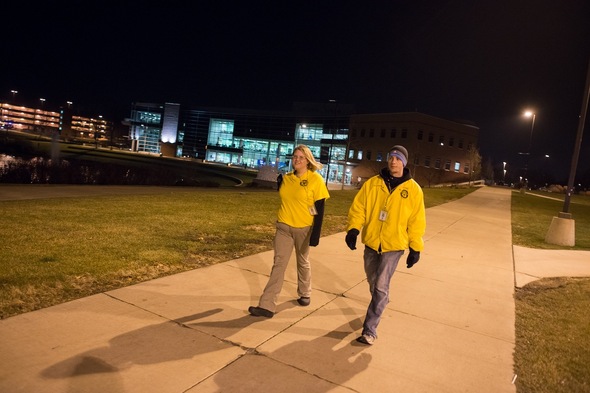 Students of
Eastern Michigan University
's walking escort and patrol service have been beefing up their campus presence since the suspicious
death
of fellow student
Julia Niswender
Tuesday. The
Student Eyes and Ears for University Safety
, better known as "
SEEUS
," has extended its walking service hours and added additional escort staff to maintain student security.
SEEUS student supervisor Paul Wild said the organization has seen a significant increase in call volume since Tuesday, when Niswender was found dead in her apartment. Police have said there were no outward signs of trauma, but the death is being investigated as a homicide.
"We've been a lot busier, people have been much more aware of us," he said.
Ashlea Martin, part of the SEEUS foot patrol, said she and other workers have actively stepped up to take extra walking shifts to respond to the increased demand.
"We don't want students to feel unsafe on campus," she said. "When something happens you become more aware of your surroundings, and that's a good thing, but we don't want it to interfere with their finals."
Both SEEUS and the EMU Department of Public Safety have taken specific actions to increase campus security, including:
Extending the SEEUS walking escort service until 7 a.m. (from 3 a.m.)
Adding additional SEEUS escort staff
Designating Halle Library as a station for SEEUS walking and mobile escorts from 3-7 a.m.
Adding four additional campus security personnel in the overnight hours
Adding two additional officers to patrol from 7 p.m.-7 a.m. in addition to the normal shift coverage
Adjusting lighting sensors to brighten exterior security lighting in the areas adjacent to Halle Library and the College of Business
Adjusting the automatic timing patterns of the exterior lighting in the areas adjacent to Halle Library and the College of Business to have them turn on earlier (at 4:30 p.m., about 30 minutes before sunset) and to stay on later (8:30 a.m., or 30 minutes after sunrise)
Martin said she hasn't felt any drastic changes in the campus atmosphere since Niswender's death but acknowledges there is a difference.
"There's a solemn feel to it, but I think everyone is just startled and we don't know how to react right now," she said. "It hasn't been extremely different, but you can tell something's happened."
Students using SEEUS said they don't feel overly concerned for their safety, but they are taking extra precautions because of the incident.
EMU freshman Tiffany Browne said she doesn't normally use SEEUS services, but has used them twice in the past two days.
"I don't feel more worried being on campus, necessarily," she said. "If I a situation arose where I'd have to walk by myself, I don't think I would feel intimidated to do so. But if SEEUS is available, which they always are, then I'm more likely to use them now."
Shahana Ahmed, also an EMU freshman, said she too has started using SEEUS services, though she hadn't in several months.
"I'm not more scared, it's just I'm much more alert than I used to be," she said. "If I do walk by myself, in the morning, I still keep vigilant. At night, I always, always, always walk with a partner right now, and it heightens your awareness of your surroundings and it does heighten your own protectiveness."