Posted on
Thu, Jul 26, 2012 : 5:56 a.m.
Superior Township residents to vote on 3 millages in Aug. 7 election
By Katrease Stafford
Superior Township residents will decide whether or not to approve three millages in the Aug. 7 election.
Two millages on the ballot, fire and law enforcement, expire this year and are up for renewals that would be levied for three years from 2012 through 2014. The third millage is to "defend" the township's master plan and zoning ordinance.
Township Clerk Dave Phillips said about 16.8 percent of registered voters turned out for the Aug. 5, 2008 primary and he is estimating the same amount this year, with around 2,000 township residents expected to vote.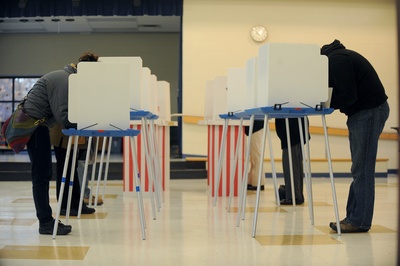 Angela J. Cesere | AnnArbor.com
Renewal of fire millage
This year, the proposed millage is for 3 mills, $3 per $1,000 of taxable value, and if approved it will be levied for three years for the purpose of providing additional revenue for fire protection and prevention.
Township Supervisor William McFarlane said in the first year the millage is levied, it is estimated $1,655,352 will be received.
McFarlane said the millage must pass in order for the fire department to continue with the same level of operations. Although the township has its own fire services, it also collaborates with Ann Arbor Township to provide services to both areas. Fourteen firefighters work together to cover the areas.
"We're able to buy good equipment and when the calls come in we can get people on the scene and prevent loss of life and damage to property," McFarlane said.
The previous fire millage was voted on in 2008 with 77 percent—1,068 voters— being in favor of it.
A portion of the second and third year millage levied on Hyundai's new construction only will be disbursed to the Local Development Finance Authority of the Charter Township of Superior.
Renewal of law enforcement millage
The township is seeking the millage be renewed at 2.25 mills,or $2.25 per $1,000 of taxable value and levied for three years. The millage is expected to raise an estimated $1,241,514 in the first year.
If they don't pass, we can't continue the same level of police protection that we have," McFarlane said. "Some communities have decided to rely on the state police and general fund but we have not done so. Having police be able to respond in minutes is important."
McFarlane said the township contracts its police services through the Washtenaw County Sheriff's Office and the millage would allow them to continue to do so. Ten deputies work in the township.
"We probably have some of the best police and fire departments in the area because of our collaborations and millages," McFarlane said.
In 2008, 75 percent of voters voted in favor of the law enforcement millage.
Like the fire millage, a portion of the second and third year millage levied on Hyundai's new construction only will be distributed to the finance authority.
Master plan and zoning ordinance defense millage
McFarlane said the proposed .25 millage would help the township enforce its master plan when developers attempt to build outside of its sewer and water and system.
The millage would levy .25 mills, or .25 cents per $1,000 of taxable value, and raise an estimated $137,945.
Voters approved a similar millage to be levied for three years on May 2, 2006, Phillips said, with 64 percent in favor.
McFarlane said the township only levied the millage for two years the first time it was approved by voters.
"We let it lapse because we felt we didn't need it," he said. "We might need it now for potential litigation."
McFarlane said while the millage is "very small," it sends a message to developers.
"I believe it'll pass because we've had overwhelming support from voters in the past," he said. "Our people support the township's master and zoning plan and all that we do."
Katrease Stafford covers the city of Ypsilanti for AnnArbor.com. Reach her at 734-623-2548 or KatreaseStafford@annarbor.com. You can also follow her on Twitter.