Posted on
Mon, Jun 24, 2013 : 10:19 a.m.
U.S. Supreme Court sends Fisher vs. University of Texas affirmative action case back to lower court
By Amy Biolchini
The U.S. Supreme Court ruled in a 7-1 decision Monday morning to send a case that could have affected the University of Michigan's affirmative action polices back to a lower court for reconsideration.
Before the Supreme Court Monday was the Fisher vs. University of Texas affirmative action case.
The case is a challenge to the University of Texas' admission policy by a white student, Abigail Fisher, who was denied undergraduate admission. The Fifth Circuit court, as well as a lower district court, both upheld the university's policy.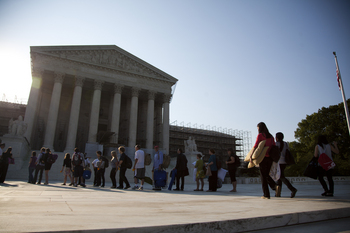 Evan Vucci | The Associated Press file photo
In its ruling on Monday, the Supreme Court vacated the Fifth Circuit court's decision on the grounds that it did not apply strict scrutiny to reviewing the university's policy.
"The Fifth Circuit must assess whether the University has offered sufficient evidence to prove that its admissions program is narrowly tailored to obtain the educational benefits of diversity," according to the written opinion issued by the court Monday.
Justice Anthony Kennedy delivered the opinion of the court, while Justice Ruth Bader Ginsburg was the sole dissenting opinion. Justice Elena Kagan did not take part in deciding the case.
The University of Texas' affirmative action policy was possible as a result of the court's last major ruling on affirmative action -- a 2003 case out of the University of Michigan, Grutter vs. Bollinger.
In Grutter, the Supreme Court reaffirmed that universities could use race as an admissions factor when selecting incoming students.
Justice Clarence Thomas said Monday he would have overturned the court's 2003 ruling, the Associated Press reported.
The University of Texas automatically offers admission to the top 8 percent of Texas high school students per state law, the Associated Press reported.
For students who don't qualify for automatic admission, race is used as one of many factor to evaluate applicants.
University statistics indicate that more than eight in 10 African-American and Latino students who enrolled at the main campus in Austin in 2011 were automatically admitted, the Associated Press reported.
A 2006 voter-approved constitutional amendment, known as Proposal 2 or the Michigan Civil Rights initiative, bans the consideration of race in admissions in Michigan's 15 public universities.
The Supreme Court is expected to consider the constitutionality of Proposal 2 in its next term in the case Schuette v. Coalition to Defend Affirmative Action.
Amy Biolchini covers Washtenaw County, health and environmental issues for AnnArbor.com. Reach her at (734) 623-2552, amybiolchini@annarbor.com or on Twitter.