Posted on
Mon, Mar 25, 2013 : 12:46 p.m.
Supreme Court to consider Michigan's affirmative action ban a decade after landmark U-M case
By Kellie Woodhouse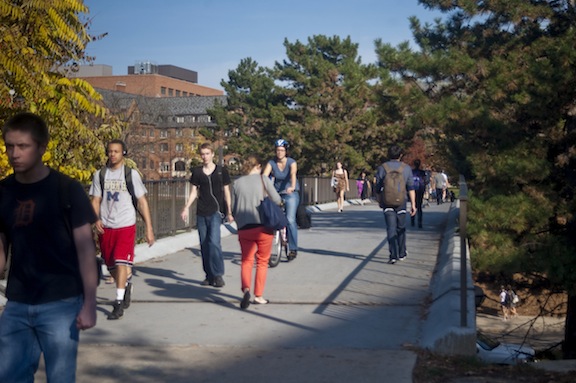 Joseph Tobianski | AnnArbor.com
A decade after upholding the use of affirmative action policies in
University of Michigan
admissions, the
U.S. Supreme Court
will hear another case
that will affect the Ann Arbor school's ability to consider an applicant's race.
The high court has agreed to hear a case arguing the legality of a 2006 voter-approved constitutional amendment that bans consideration of race in admissions by Michigan's 15 public universities.
In an 8-7 decision late last year, a federal appellate court upheld a Sixth Circuit court's July 2011 decision to strike down the amendment, known as Proposal 2 or the Michigan Civil Rights Initiative. The court ruled the ban presents an undue burden to proponents of affirmative action who would have to mount a long, expensive campaign to amend the constitution.
AP photo
Michigan Attorney General
Bill Schuette
filed an appeal with the Supreme Court, which decided Monday to hear the case. The case is Schuette v. Coalition to Defend Affirmative Action. The court in the fall heard an affirmative action case questioning the University of Texas' consideration of race in admissions and for that case U-M filed a friend-of-the-court brief supporting affirmative action. A decision is expected this summer.
Experts believe that by taking up the Michigan ban, the Supreme Court is looking to take a broader stance on affirmative action.
While university administrators publicly support affirmative action —U-M President Mary Sue Coleman has said she is a "huge believer in affirmative action"— the school hasn't offered a stance on Proposal 2; instead Coleman said she is adopting a "wait and see" attitude as litigation continues.
It's unclear whether the university will offer support the Coalition to Defend Affirmative Action's case, led by attorney George Washington, now that it is before the Supreme Court.
"We've been watching it," U-M spokesperson Rick Fitzgerald said of the case, adding that the school's no-stance policy has not changed.
Washington assisted the university's legal team before the Supreme Court in Grutter v. Bollinger in 2002 and 2003 when it argued in favor of the school's consideration of race in admissions. In that landmark case, the court found that U-M could work toward achieving diversity in admissions, but that the school's existing policy considered race too heavily.
As the university redrafted its affirmative action policies, opponents mounted a campaign to ban affirmative action among Michigan's 15 public universities. The result was Proposal 2, and since it took effect in 2006 U-M hasn't used affirmative action in admissions.
Diversity in the school's student body has clearly suffered. Currently, underrepresented minorities make up 10 percent of the freshmen class, a 0.5 percent decrease from 2011 and a 0.6 percent decrease from 2010.
According to the American Civil Liberties Union, the number of blacks enrolled as freshmen at U-M dropped nearly 15 percent from 2006 to 2010. Black enrollment at the law school fell 28 percent from 2006 to 2011.
"These laws have driven down black and latino enrollment," Washington, the attorney that will represent affirmative action proponents before the Supreme Court when it hears the Michigan case in the fall, said in an interview. "It damages the minority.... It's a disaster, we want them to reverse the law."
Washington said that while Schuette filed the appeal, his legal team encouraged the Supreme Court to take up the case. Washington thinks the court will find in his favor, thus setting a national precedent that affirmative action proponents have been seeking for years.
For his part, Schuette has expressed confidence that the Supreme Court will uphold the ban.
"The Michigan Constitution exemplifies the fundamental premise of what America is all about: equal opportunity under the law for all citizens," he said in a statement released Monday. "Entrance to our great colleges and universities must be based upon merit, and I remain optimistic moving forward in our fight for equality, fairness and rule of law at our nation's highest court."
In 2011, 33 percent of U-M freshmen said they supported affirmative action policies. That same year, 42 percent of college freshmen throughout the nation supported weighted admissions policies, according to an annual freshman survey conducted jointly by the University of California's Cooperative Institutional Research Program and U-M.
Washington criticized U-M for not publicly supporting a repeal of the state's affirmative acton ban.
"Their position so far has been to be neutral," he said. "They just say 'Whatever the courts decide,' which we think is wrong."
Kellie Woodhouse covers higher education for AnnArbor.com. Reach her at kelliewoodhouse@annarbor.com or 734-623-4602 and follow her on twitter.