Posted on
Wed, Mar 23, 2011 : 12:13 p.m.
Surprise vote on $30,000 parking study angers some Ypsilanti Downtown Development Authority board members
By Tom Perkins
A $30,000 parking study is over before it started, and several members of the Ypsilanti Downtown Development Authority board are unhappy with the result and how the decision was reached.
The board voted Thursday 4-2 to end the study, for which the DDA had sought request for proposals on how best to develop a self-sustaining parking system.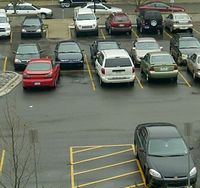 The issue was not on the agenda, but, just before the meeting's conclusion, board member Kevin Hill made a motion to end the study. Four board members were absent, and board member Darryl Daniels left for another engagement earlier in the meeting.
Board member Linda French walked out in protest before the vote because the issue was not on the agenda. She said she strongly disagreed with the procedure and pointed out that the DDA was supposed to vote on the issue next month.
After French left, seven board members remained - the minimum number required for a quorum.
Board members Hill, Bob Barnes, Karen Maurer and Bonnie Penet voted to end the study. Mayor Paul Schreiber and board member Jim Karnopp voted against the motion. Vice chair John Coleman, who ran the meeting because the chair was absent, did not vote.
Although Karnopp said he opposes the study, he disagreed with how the issue was brought to a vote. That prompted him to vote against motion.
"I didn't like how they did it," Karnopp said. "There was nobody there who was a part of the study to vote, and if one more person had left, we wouldn't have had a quorum."
French, who said she was out of town before the meeting and flew home to attend, also expressed concern with how the issue was brought to a vote.
"It should have been brought up when everyone is here so we could have an honest discussion and vote one way or another," she said. "This board is new, and we need to foster trust and respect. Bringing up something that's not on the agenda is political, and this is a small board.
"By the rules, you can do this, but is this something you really want to do?"
Schreiber also said his vote did not necessarily reflect his stance on the study, but was cast in objection to the procedure. Hill, Maurer and Penet declined to comment and Barnes did not return calls.
The DDA voted 6-5 at a November meeting to authorize DDA Director Tim Colbeck to seek requests for proposals for the parking study. Colbeck said in November that the goal was for the DDA to develop a system that would generate revenue to pay to fill potholes, fund parking enforcement officers and cover lot maintenance. Recommendations from the study would have helped with planning for growth in the city's three business districts.
At the time, those who opposed the idea said the authority has more pressing concerns and argued it wasn't money well spent in tough economic times. Those who supported the idea stressed they didn't authorize the DDA to spend any money.
The DDA has since received several proposals at no cost but had yet to take action on them. An ad hoc committee charged with analyzing the proposals had yet to meet.
At the November meeting, Karnopp, Maurer, Penet, Hill and Coleman voted against seeking the proposals. Board members Leigh Greden, Dave Wheeler, Sandee French, Linda French, Rene Greff and Barnes supported it.
Schreiber said the issue has been an emotional one. He said he suggested tabling it until the next meeting when more board members were present.
"That way people can talk to each other, people can talk to other community members and we can have a well-thought out discussion," he said. "I voted no, but it really has nothing to do with the study, because I think we need to have this vote published and have a discussion instead of having a surprise vote."
Colbeck said a DDA attorney is checking to see if the vote was legal and if there actually was a quorum, but he didn't expect anything to change. He added that he has no position on the issue.
"I certainly think that (the study) is a valid endeavor for us to undertake, but I understand the board's concern (in regards to) the expense," he said.