Posted on
Wed, Apr 18, 2012 : 5:59 a.m.
Survey shows 60% of Ann Arbor area voters would favor $65M library bond proposal
By Ryan J. Stanton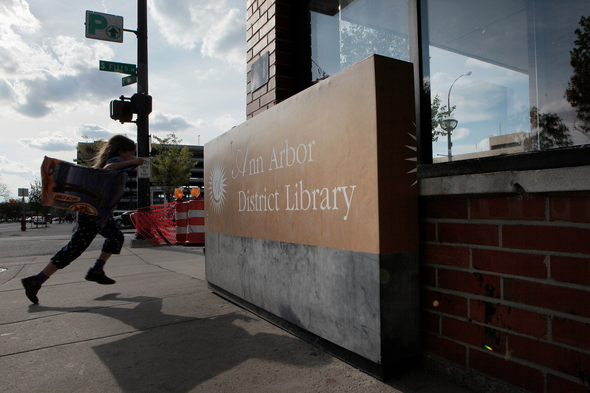 Chris Asadian | AnnArbor.com
A
new survey of likely voters
in the
Ann Arbor
area shows about 60 percent would be in favor or lean in favor of a $65 million library bond proposal if it were on the ballot.
The Ann Arbor District Library hired Lansing-based research firm EPIC-MRA to conduct the survey, which indicates the AADL may place a bond proposal on a future election ballot to fund major renovations to the downtown library or replace the facility with a new building.
"It is anticipated that the cost will be approximately $65 million to execute the renovation or new construction project, meaning that the voters of the district would have to approve of a bond proposal to repay the cost of the bonds to finance the project," the survey states.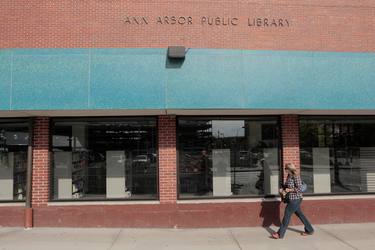 Chris Asadian | AnnArbor.com
"Such a bond proposal would result in a property tax increase of approximately 0.69 mills, meaning that for every $200,000 in market value and a taxable value of $100,000, a typical homeowner would pay an additional $69 per year, or $5.75 per month, in property taxes."
Given those facts, 45 percent of respondents said they would vote yes if the election were held today, while another 15 percent said they were leaning toward yes. About 33 percent said they'd vote no and another 4 percent said they were leaning toward no.
The top reasons given by those opposing the bond proposal were that they didn't think it's needed or they're opposed to a tax increase.
Some cited wasteful government spending.
About 3 percent of respondents were either undecided or did not answer, and those people then were asked how they'd vote on a lesser 0.51-mill tax to renovate or replace the downtown library. About 61 percent of them said yes or leaning yes.
Those who still weren't convinced were asked how they felt about a 0.25-mll tax to renovate or replace the downtown library. About 72 percent said yes or leaning yes.
AADL Director Josie Parker said the poll was conducted in March to determine the public's attitude about the services and facilities provided by AADL and their willingness to fund a downtown facility project. Parker said the idea is still in the early stages and a newly appointed facilities committee will meet soon to determine how to go forward.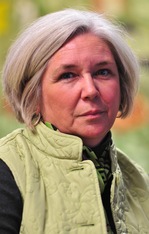 Parker said 400 people took the survey.
In addition to attitudes about a bond proposal, survey respondents were asked to share their thoughts on a number of issues directly and indirectly related to the library.
Asked to choose from a list of eight problems or issues that might concern them, 29 percent of respondents said the condition of the economy and jobs concerned them most, 27 percent said the quality of local schools and 14 percent said maintaining area roads.
Another 7 percent said controlling crime and drugs, 7 percent said the level of local government taxation, 6 percent said the quality of services provided by local government, 4 percent said addressing growth and development and 2 percent said the quality of libraries.
Asked to score how important various assets and attractions are to Ann Arbor on a 1 to 10 scale, respondents ranked the University of Michigan 8.8, AADL 7.3, Michigan Theater 6.3, Ann Arbor Public Schools 8.1, restaurants and entertainment options 7.3, Art Fair 6.4, Zingerman's 5.7, Ann Arbor Hands-on Museum 6.2, U-M Hospital 8.4 and The Ark 5.8.
Asked about their taxes in relation to what they get in local services, 33 percent said they were too high, 3 percent said too low, and 61 percent said they're about right.
Asked whether they thought local libraries are more or less important with the growth of computers and the Internet, 34 percent said more important, 15 percent said less important and 50 percent said about the same importance.
The survey found the downtown library is the location that 27 percent of respondents primarily visit, while 16 percent said Malletts Creek, 15 percent said Traverwood, 14 percent said West, 12 percent said Pittsfield and 14 percent said they never visit a library at all.
Asked why they don't visit any local library, 24 percent of those respondents said they can just use the Internet at home, 12 percent said they prefer to buy books, 19 percent said they had no need or interest, and 7 percent said they were too old.
Asked how often they or someone else in their household uses the library, 35 percent said a few times a month, 24 percent said a few times a week, 20 percent said a few times a year, 3 percent said seldom, 2 percent said every day and 16 percent were undecided.
The most popular library services among patrons were borrowing books (25 percent), borrowing DVDs (17 percent) and borrowing fiction best sellers (10 percent).
Asked to rate the quality of the downtown library, 82 percent cited it as either excellent or pretty good, while 5 percent said fair and 1 percent said poor. The most common reasons for a positive rating were good selection of materials and the customer service staff.
The most common reasons for a negative rating were construction, parking and a perceived need for upgrades. Some thought it was too small and attracted too many homeless people.
Asked what's most needed to improve the downtown library, about a third of respondents said either better parking or free parking.
About 81 percent of respondents rated the quality of the services and collection of books and materials provided by the AADL as either pretty good or excellent.
Asked where they get information that influences their opinions, 43 percent said AnnArbor.com, 18 percent said the Ann Arbor Observer, 14 percent said word of mouth, 9 percent said radio news, 6 percent said TV news, 1 percent said the Detroit Free Press, 1 percent said Google, 1 percent said MLive and 1 percent said The Ann Arbor Chronicle.
Previous coverage: Redevelopment? Renovation? Ann Arbor library officials revive talks about downtown library
Ryan J. Stanton covers government and politics for AnnArbor.com. Reach him at ryanstanton@annarbor.com or 734-623-2529. You also can follow him on Twitter or subscribe to AnnArbor.com's email newsletters.