Posted on
Sun, Jun 16, 2013 : 5:58 a.m.
Survey shows Ann Arbor citizens not fully satisfied with their city government
By Ryan J. Stanton
ForeSee
Ann Arbor City Council Member
Sally Hart Petersen
, D-2nd Ward, has released the results of a new
citizen satisfaction survey
and she says she's concerned about some of the low scores.
The survey shows Ann Arbor residents want the city do a better job providing basic services such as paving streets in the summer and plowing streets in the winter.
"The big takeaway for me was the emphasis on roads. It's really coming through loud and clear," Petersen said, referring to some of the answers to the open-ended survey questions.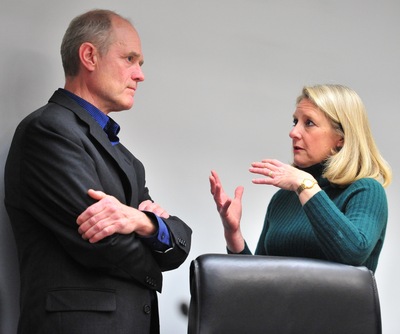 Ryan J. Stanton | AnnArbor.com
Petersen said she doesn't think the issues are limited to her ward, but she does notice them more where she lives.
"The plowing in Ward 2 in the cul-de-sacs is really subpar, in my mind, and we need to make that a higher priority," she said.
"For a city that is well-off in many ways … I think we can do a better job of plowing our roads in the winter and do a better job of keeping them in a state of repair year-round," she added.
Mayor John Hieftje publicly addressed the issue of Ann Arbor's crumbling roads this past week in a speech to the local Rotary Club. He acknowledged the city fell behind on taking care of streets in recent years as the city was saving up money for the Stadium bridges project, but now the city is playing catchup. He said roughly 30 miles of city streets could be repaved this year.
Petersen conducted the recent citizen satisfaction survey in collaboration with ForeSee, a customer experience analytics firm headquartered in Ann Arbor.
The survey invited citizens to rate the city based on their experiences, including perceptions of city services, communication, employees, infrastructure, public safety and taxes. The survey also asked citizens to rate their overall satisfaction, as well as their trust in city governance.
While the survey was designed to garner feedback specifically from Ward 2 residents, it was open to all citizens of Ann Arbor. A total of 303 people took the survey — 74 percent from Ward 2.
Petersen said she's concerned that overall citizen satisfaction scored low at 63 out of 100, but she said that's typical for government. According to the American Customer Satisfaction Index benchmarks for 2012, the satisfaction score for the federal government was 68 out of 100.
"It's not atypical for a government score to be in the 60s," Petersen said. "Still, I'd like to see that increase. We want people to participate or volunteer or recommend Ann Arbor as a place to live, and we want them to trust the government more. The trust score is low."
Citizen perceptions of trust in their city government scored 43 out of 100, which Petersen said concerns her but remains in line with typical government scores.
Perceptions of taxes scored 51 out of 100. Petersen said the score likely would go up if residents paid fewer taxes or perceived a higher level of service for what they paid. She said she sees the need to continue to advocate for better road maintenance, safer crosswalks and improved signage.
Perceptions of public safety scored 75 out of 100, while the city's infrastructure scored 56 out of 100, and city services scored 81 out of 100.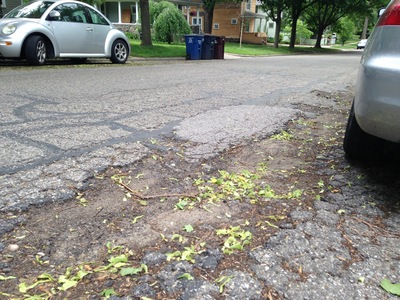 Ryan J. Stanton | AnnArbor.com
Perceptions of communication by the city scored 55 out of 100, while perceptions of city employees scored 69 out of 100.
While it's clear the city needs to improve basic infrastructure, Petersen said, it also must continue to reinforce public safety. A decrease in perceptions of public safety, she said, likely would lead to a significant decrease in overall satisfaction and trust in the city government.
From an administrative perspective, Petersen said, the case can be made for continued improvement in the awareness and content of information available on the city's website and outbound email communication systems. She said the city could earn significant gains in trust by improving communication.
City Administrator Steve Powers said the feedback gained from Petersen's survey is timely since the City Council has approved a project to redo the city's website. He said the website will be easier to use and the quality of information will improve.
Petersen said she's eager to re-launch the survey this fall to track changes. She said it's her hope the scores will improve as the city makes progress in each category.
The rest of the survey results can be downloaded by clicking on the following links. Petersen explained that while the individual questions asked citizens to respond on a scale from 1 to 10, the overall results were reported out using a 100-point scale to make it easier to track changes.
Petersen said one of the surprises of the survey for her was learning how much Ward 2 residents care about what's happening downtown in terms of economic development.
"They care about not only downtown, but what's happening or going to happen on the Plymouth Road corridor as well," she said.
Petersen added she's working on opening the lines of communication with the University of Michigan to foster more collaboration between the city and the university. She said she's hoping to see a "cultural shift" and she's had good talks with U-M Regent Mark Bernstein about that.
Ryan J. Stanton covers government and politics for AnnArbor.com. Reach him at ryanstanton@annarbor.com or 734-623-2529. You also can follow him on Twitter or subscribe to AnnArbor.com's email newsletters.