Posted on
Thu, May 30, 2013 : 6:30 p.m.
Council appoints Susan Baskett to AATA Board of Directors
By Chelsea Hoedl
Avid public transit user Susan Baskett was appointed by the The Ann Arbor City Council to the Ann Arbor Transportation Authority board of directors on May 20.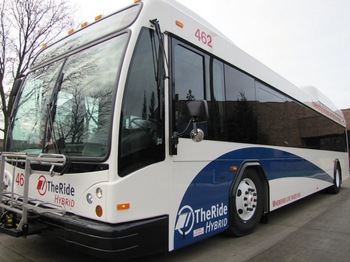 Baskett, who also has been a trustee on the Ann Arbor Board of Education since 2003, will takeover Jesse Bernstein's seat on the seven-person board. Her term will run from May 20, 2013 through May 5, 2018.
Baskett, who said she is a frequent user of public transit, said she is very interested in it and believes Ann Arbor is in need of a better mass transit system.
While she does not have any specific proposals on how to improve the system yet, Baskett said she hopes her voice will bring a new perspective to the board.
"I just want to share my point of view," she said. "It is my hope that I will bring something different to the table as a user of transit and as a school board member, especially as we are facing budget cuts. I bring a different perspective."
On the board of education, Baskett has been involved in transportation matters as well. She is one of two trustees who said they would be willing to entirely eliminate transportation for all grades K-12 in favor of ending the district's "cut-a-little every year" approach.
Baskett said being in favor of cutting bussing for students is difficult because she knows what it is like to rely on public transportation, but making small cuts every year is not effective.
"If we have to cut transportation, why not do it all at once?" Baskett said. "If it's a choice of creeping along or cutting all together, let's just do it."
Baskett said her experience dealing with transportation for K-12 will add to the knowledge she brings to the AATA board.
Chelsea Hoedl is an intern reporter for AnnArbor.com. She can be reached at choedl@mlive.com.