Suspect arrested in Ypsilanti Township TCF Bank robbery
Posted on Sun, Mar 17, 2013 : 12:24 p.m.
Police said Sunday they apprehended a man suspected in the weekend robbery of a TCF Bank in Ypsilanti Township.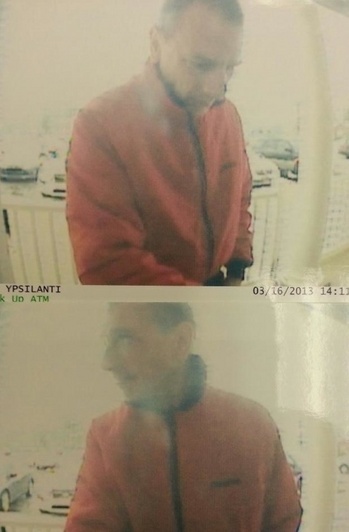 From WCSO
An Ypsilanti Police officer who was on patrol near Towner Street, near East Michigan Avenue and Ecorse Road, saw the man walking down the street and recognized him from the bank's surveillance footage, said
Derrick Jackson
, spokesman for the Washtenaw County Sheriff's Office.
The suspect, a 50 year-old Ypsilanti resident, was arrested without incident, Jackson said. He will be arraigned Monday.
The robbery took place around 2:25 p.m. Saturday at the TCF Bank at 2150 Packard Road, at the corner of North Hewitt. Bank surveillance footage captured images of a man wearing dark-colored pants, a white dress shirt and tie and a red jacket.
No weapon was observed during the robbery.
Some of the money stolen was recovered during the arrest, Jackson said. The suspect is currently on parole for another bank robbery in Wayne County.
Ypsilanti police declined to comment.