Posted on
Fri, Nov 30, 2012 : 2:49 p.m.
Suspended teacher who played gay-pride song has pay restored; rapper weighs in on incident
By Bob Needham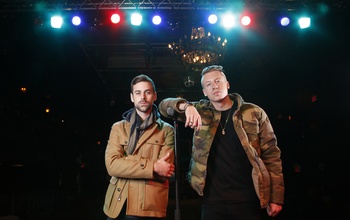 AP file photo
The artist behind a rap song about being gay that
led to a teacher's suspension
has spoken out about the incident.
Susan Johnson, a teacher at South Lyon's Centennial Middle School, was suspended for three days after playing the song "Same Love," by Macklemore & Ryan Lewis, in class without authorization. The played the song at the request of a student, but another student in the class objected, Fox 2 in Detroit reported earlier this week. The song addresses the challenges of growing up gay and expresses support for same-sex marriage.
Seattle-based rapper Macklemore (a.k.a. Ben Haggerty) has posted a statement on the duo's website addressing the South Lyon incident.
And today, The Detroit News reports that Johnson is back at work and her pay has been restored.
The News quotes district Superintendent William Pearson as saying, ""I am willing to not uphold the suspension, but the violation of the district practice regarding web-based clips and our expectations for instructions previewing materials under this will remain in writing."
Macklemore's statement reads in part, "I believe that Ms. Johnson getting suspended is completely out of line and unjust. However, I think it's important for moments like these to be exposed and for us to pay attention and respond ...
"I wrote the song "Same Love," not with the expectation that it would cure homophobia and lead to marriage equality across the US (although that'd be awesome). It was written with the hope that it would facilitate dialogue and through those conversations understanding and empathy would emerge. This incident demonstrates how too often we are quick to silence conversations that must be had."
Read Macklemore's full statement here.
Here's a video of the song: (Only the audio was played in class.)
Bob Needham is director of entertainment content for AnnArbor.com. Reach him at bobneedham@annarbor.com or 734-623-2541, and follow him on Twitter @bobneedham.