Tackling the perfect tailgate spot: Competition is fierce for a space at family's football parking lot
Posted on Sat, Sep 15, 2012 : 5:59 a.m.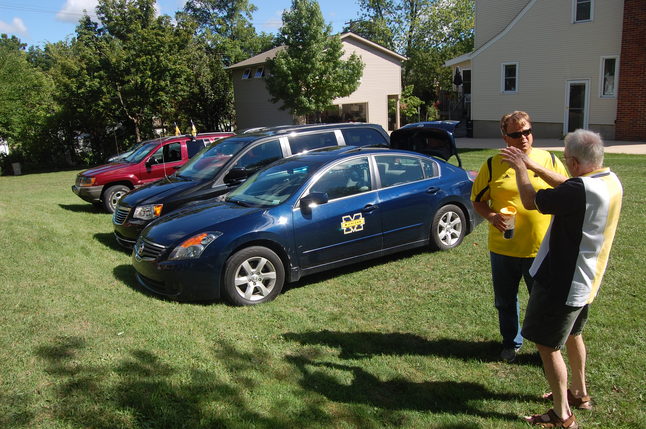 Janet Miller | AnnArbor.com
Related story: Your mega guide to Michigan vs. UMass
Getting into Norbert and Ed Rickelmann's parking lot on a University of Michigan football Saturday can be as tricky as getting into the game itself. And, like football tickets, there is a waiting list for the coveted spots, which are passed down from one generation to the next.
While many homeowners in the Allmendinger Park neighborhood rent driveway space out as a way to bring in extra cash, the Rickelmanns have created a legacy.
The family has been parking game-day cars in the vacant lot they own next to the family's 1928 Sears kit house on Pauline Boulevard, east of Edgewood Avenue, for about 77 years. Each game day, they squeeze 45 cars - all with reserved season parking passes - into the grassy lot, where customers tailgate, kick around a soccer ball, watch TV and become friends. Some customers have been coming for close to 40 years.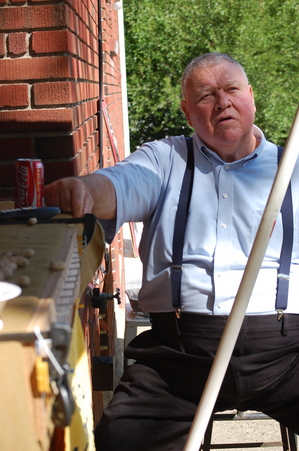 Janet Miller | AnnArbor.com
"It's more than a parking space, said
Dale Winningham
of New Baltimore, whose father-in-law began parking in the Rickelmann lot in 1996. Customers socialize during the off season and attend the weddings of each other's children. "It's just like a family," Winningham said. "We all put our tents up and bring a dish or two. We bring the kids to (some) of the games and everyone ends up being like aunts and uncles," he said. "We could easily save $150 a year and not do it, but it wouldn't feel the same."
It was around 1935, just a few years after the stadium was erected, when Andrew Rickelmann decided to use the empty lot to park game-day cars to earn extra money to help his growing family, which eventually numbered 11 children. He charged 25 cents a car, and the lot was never full. In fact, a game against Northwestern brought 20 cars, a record for the times, Norbert said. "Dad kept notes on every game."
Today, parking costs $25 a game, and is only available to season pass holders, some who have spent up to five years on a waiting list. "We've added a couple of zeros," Norbert quipped about the increase in price. And the lot is always full. "Since (Bo) Schembechler, we've really filled the place up," said 80-year-old Norbert.
Janet Miller | AnnArbor.com
Customers come from around the region - from Grand Rapids, Traverse City, even Toronto. They are treated like family, said Norbert, who knows most everyone's name and needs. Some want the same spot year after year. Some need an electrical outlet. One customer with limited mobility needs to have the pedicab called.
It has always been a family affair, Norbert said, who remembers parking cars when he was growing up. Today, Norbert and Ed orchestrate the operation and the third generation also pitches in. The money raised is used to pay taxes on the house, which is occupied by Norbert's sister.
They've improved the operation over the years. A driveway to the lot was added, eliminating a wooden board set up to smooth the curb. They installed electrical outlets for customers' crock pots and televisions. They set up a wide-screen TV that airs other collegiate football games. They added a portable toilet and open up their basement on rainy days. They even let customers soaked from a rain use the dryer.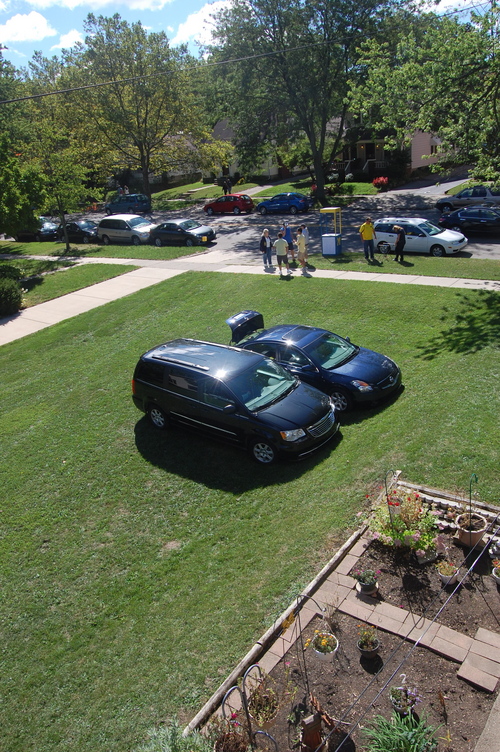 Janet Miller | AnnArbor.com
Some customers bring tents for their tailgates. One couple brings their own satellite dish and television. Despite the party atmosphere, there have never been any problems with the crowd, Norbert said. "And after all these years, we've crunched only one little bumper," said
Pam Rickelmann
, a family member who pitches in.
One time, a customer took the wrong keys - all of the keys hang on a board so the Rickelmanns can move cars as needed - and drove all the way home to Flint. "We never figured out how that happened," Norbert said.
There have been a number of VIPs over the decades. One customer invited football pros Lydell Mitchell and Franco Harris to a Michigan game, buying out the spaces of two other customers to erect a tent and host a sprawling tailgate, Norbert said. Former Detroit Tiger Bill Freehan parked at the Rickelmann lot, along with a Michigan Supreme Court justice back in the 1940s.
Kenna and Dave Zorn of Bellaire have been parking in the Rickelmann lot since 1976, always in the same spot at the rear of the property. While they don't know everyone who parks in the lot, they know everyone in close proximity, Dave said. They bring a grill or a crock pot, along with a TV, and spend the day, breaking it up by attending the game. It's safe and clean and it's nice to have an indoor bathroom, Kenna said. "There's a great atmosphere. There's camaraderie. If you don't show up, they wonder where you were."