Posted on
Wed, Nov 17, 2010 : 6:03 a.m.
Deal with DDA would relieve Ann Arbor council from making tough decisions on parking
By Ryan J. Stanton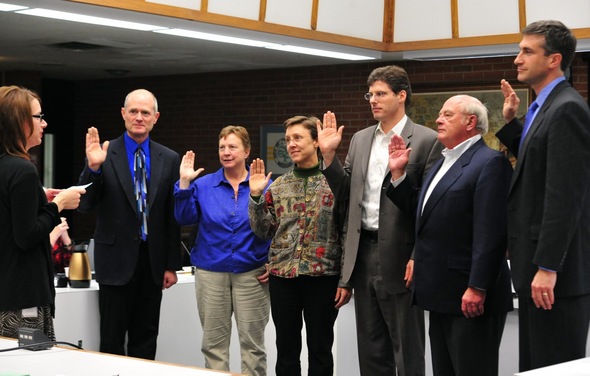 Ryan J. Stanton | AnnArbor.com
(This story has been updated with comments from Mayor John Hieftje.)
Ann Arbor City Council members could be protected against the political ramifications of having to make tough decisions about downtown parking under a new agreement with the Downtown Development Authority.
The proposed deal between the city and the DDA includes a broad transfer of duties from the city to the DDA. It would leave decisions like whether to extend parking meter enforcement hours later into the evening or whether to increase parking rates in the hands of the DDA.
"All of you here have to run for office every couple of years. There is no reason why any of you should have to run for office on the question of whether parking is $1.50 an hour or $1.75 an hour," DDA Chairwoman Joan Lowenstein told council members Monday night, explaining decisions like that wouldn't have to pass through their hands any longer.
"You are elected to make broad policy decisions and have a broad policy agenda," she said. "And what we're suggesting here is that we take over what are some of the managerial parts of this whole process so that we can, in effect, shield you from having to do that."
Lowenstein was joined by DDA board member Roger Hewitt and Executive Director Susan Pollay in making Monday's presentation to the City Council. The nine-page report offers a glimpse into the ongoing "mutually beneficial discussions" between the city and the DDA.
Hewitt said the DDA isn't necessarily committed to extending parking meter enforcement hours to any specific time, but it's a general idea being seriously considered.
The DDA's governing board voted 11-0 in April to endorse a new parking demand management plan. One of the recommendations of the plan is to extend enforcement of on-street parking meters to 9 p.m., a proposal that has angered some business owners and residents.
Currently, on-street parking meters operate from 8 a.m. to 6 p.m. The plan recommends that meter operations be shifted to run from 9 a.m. to 9 p.m.
The City Council has held off on acting on that proposal for more than seven months. If the new agreement goes through, the council would altogether avoid having to make a decision on extending the meter hours — the DDA could unilaterally do so.
"With these agreements in place, we would be putting a lot of those parking demand management concepts into practice," Hewitt said. "Extending the meters into the evening is something we're going to look at seriously."
Mayor John Hieftje said while it may be true that if the City Council accepts the proposal the DDA would be making more of the tough decisions related to parking, he and Council Member Sandi Smith would not be shielded. They still would be voting members of the DDA.
Among the other highlights of Monday's report is that the DDA no longer would transfer funds to the city from several different "pots." Rather, for the first two years of a proposed 10-year contract starting July 1, the city would be paid 16 percent of gross parking system revenues. In the last eight years of the contract, the city would be paid 17.5 percent.
The city currently is paid just under $3 million a year by the DDA, including $2 million in so-called "rent" from the current parking agreement, $100,000 from the old Y parking lot plus the net from the 415. W. Washington lot, and then $800,000 that goes to the city's street funds to pay for paving of on-street parking spaces and plowing snow.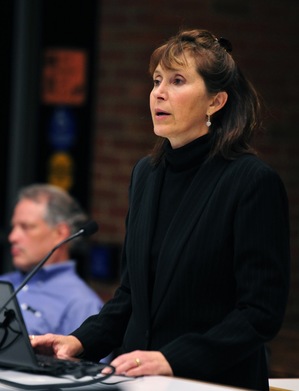 Ryan J. Stanton | Ann Arbor.com
Hewitt said he expects a final deal to be reached between the city and the DDA by the end of January or early February. Discussions have been ongoing for several months.
"I think we're pretty close. I think we've got a framework of an agreement, and I think City Council reacted positively," Hewitt said.
Gross parking revenues from downtown meters, surface parking lots and structures are on an upward trend, primarily due to a rate increase put in place to help finance construction of a new underground parking structure being built on South Fifth Avenue.
Overall system revenues totaled $14.6 million in 2009-10. For the current fiscal year, they're projected to come in at $15.2 million, increasing to more than $16 million in coming years.
Hewitt said the DDA is projecting a jump of about $1.3 million in fiscal year 2012-13 when the new parking structure comes on line, which he called a conservative estimate.
Sixteen percent of $16 million — close to what the city could be paid — comes out to $2.56 million, which is a decrease from the amount the city now collects. However, if the DDA's projections for future years are accurate, that could quickly grow to more than $3 million.
"As the system grows and expands, we both benefit from this," Hewitt said.
The changes also would assure the DDA of a minimum parking enforcement level, with the DDA given authority to provide direction. A supervisor from Community Standards, the city department in charge of parking enforcement, would attend DDA Operations Committee meetings and help establish a set of enforcement benchmarks.
The DDA's role as parking manager would take place within a new parking district encompassing the DDA's current meters, lots and structures, plus other near-downtown areas where the land uses are commercial, university or medical in nature.
As managers of the parking system, the DDA would set parking rates as it sees fit. The DDA would no longer be required to present its proposed parking rate changes to the City Council.
Hewitt said the DDA is interested in setting different parking rates based on geographic location, time of day, and even which level a vehicle is parked on in a structure.
"Certainly we would be having different parking rates on street meters depending on how much usage," he said. "Essentially we're trying to match parking rate and demand."
Hewitt said parking enforcement, including Community Standards officers who write tickets, would remain under the city, but the DDA would have some control.
"The DDA would be able to direct a certain number of hours of Community Standards and parking enforcement to specific time areas and specific geographic areas," he said. "This would certainly not be all of the Community Standards time, but a portion of it, so that we can target the enforcement to achieve our parking demand management goals."
The tentative deal has been hashed out by a select group of DDA officials and City Council representatives, including Council Members Christopher Taylor, D-3rd Ward, Margie Teall, D-4th Ward, and Carsten Hohnke, D-5th Ward.
Taylor said the transfer of duties to the DDA properly depoliticizes questions surrounding downtown parking management that should not be political.
"The DDA has built up over the years a great deal of expertise in parking," he said. "And questions of the time of parking enforcement and the rates for parking enforcement are properly apolitical. They are questions of what is best to activate the downtown, and that is something the DDA has been studying for years."
Taylor said he understands concerns some might have about the responsiveness of the DDA to community concerns, but it is the DDA's goal to activate downtown, "and if what they're doing doesn't work, I have every belief they'll be nimble in their response."
Ryan J. Stanton covers government and politics for AnnArbor.com. Reach him at ryanstanton@annarbor.com or 734-623-2529.