Posted on
Tue, Nov 13, 2012 : 5:58 a.m.
2012 Thanksgiving meals offered for the needy in Washtenaw County
By Julie Baker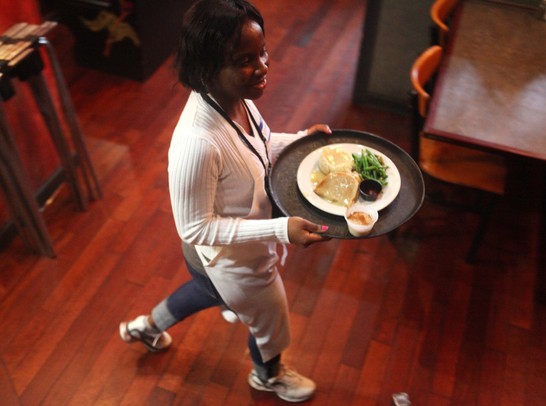 AnnArbor.com file photo
Many businesses, churches and organizations are focused on giving back this time of year. For those those in need, having a traditional Thanksgiving dinner with turkey and all the trimmings may not be an option without the help of others.
Some organizations distribute food to families, while others prepare the meals themselves. Here's a roundup of meals and ways to give centered around the Thanksgiving holiday — Thursday, Nov. 22.
Behavior Workshop 18th annual Pre-Thanksgiving Dinner: Thursday, Nov. 15, from 4:45 to 7:45 p.m. at Perry School Gymnasium, 633 Harriet St., Ypsilanti. Contact Tyrone Bridges: 734-444-4841. Lack of funding threatened the event and organizers sought donations, but it's still planned to take place Thursday.

The Salvation Army of Washtenaw County's regular soup kitchen crew will serve a special Thanksgiving meal during its regular community meal from 5-6 p.m. on Monday, Nov. 19. The meal will include turkey and trimmings. The Salvation Army is at 9 S. Park St., Ypsilanti.

Emmanuel Lutheran will host the Ypsilanti Hunger Coalition meal on Tuesday, Nov. 20. It will be a Thanksgiving-themed meal with turkey and stuffing. 5 to 6 p.m. at Emmanuel Lutheran, 210 N. River, Ypsilanti. 734-482-7121.

The Salvation Army of Washtenaw County will again partner with Ypsilanti Free Methodist Church to provide a Thanksgiving meal from 4:30-6:30 p.m. Wednesday, Nov. 21. Rides are available from 4-6 p.m. from The Salvation Army (9 S. Park, Ypsilanti) to the meal, which will be served at the Free Methodist Church, 1800 Packard Road. The Salvation Army notes that there will be no regular meal that Wednesday or Thursday.

Holy Trinity Student Parish in Ypsilanti will continue a 35-year+ tradition by holding a community Thanksgiving dinner on Thanksgiving Day, Thursday, Nov. 22. The meal is from 11 a.m. to 1 p.m. in the social hall of the church, 511 W. Forest Ave. A traditional turkey dinner (turkey, mashed potatoes, stuffing, vegetables, rolls and beverage) will be served. Contact: 734-482-1400.

Ann Arbor Vineyard Homeless Ministry will host a traditional Thanksgiving meal from 11:30 a.m. to 4 p.m. Thanksgiving Day at Vineyard Church, 2275 Platt Road in Ann Arbor. There will be a free shuttle between the parking lot behind Liberty Plaza and the church beginning at 11 a.m. and ending with the last ride from the church at 5 p.m. Doors open at 11:15 a.m. The church will be serving a traditional Thanksgiving meal with turkey, ham, mashed potatoes, green bean casserole, sweet potatoes, pumpkin pie and more.

The Original Cottage Inn will host its annual Thanksgiving dinner from 10 a.m. to 2 p.m. on Thanksgiving Day. The restaurant is at 512 E. William St., Ann Arbor. Upward of 300 people typically attend. Contact: 734-663-3379.
Opportunities to help:
From Food Gatherers: Food Gatherers and its network of hunger relief partners provide meals and groceries to our neighbors in need all year long. While Food Gatherers does not have any volunteer opportunities on Thanksgiving Day, we do have opportunities around Thanksgiving (distributing food to families before the holiday) and throughout the entire year. If you are interested in volunteering at Food Gatherers, please visit our website, email volunteer@foodgatherers.org or call 734-761-2796. If you're still interested in finding something on Thanksgiving Day, you can contact Wasthenaw 2-1-1 (just dial "211" from a land line, call 866-953-HELP or visit www.washtenaw211.org)

SOS Community Services will be providing homeless families with a turkey this holiday season. Families had to be registerd by Nov. 1, but the food pantry will be open Tuesday, 10 a.m. to 6:30 p.m. Monetary donations can be made to the SOS Administration Office at 101 S. Huron St.. All food and items can be delivered to the Housing Center at 114 North River St., on Nov. 14 between 9 a.m. - 5 p.m.

Benefit dinner: First United Methodist Church of Ann Arbor will hold a traditional Thanksgiving dinner Saturday, Nov. 17 with proceeds to support people in need, locally and internationally. The dinner is from 5-7 p.m. in the church's social hall, 120 S. State St. Tickets: Adults - $12, Students (secondary, high school, college & graduate) - $8, Children (ages 4-11) - $4 and Family(parents and their children through high school) - $40. Self-serve take-out will also be available during dinner service hours. Contact the church office at 734-662-4536 or visit www.fumc-a2.org.

Ann Arbor Vineyard Homeless Ministry is all set on volunteers for its dinner, but the church always has a need for clothing donations, Lisa Aunins said. "We ask for mens clothing sizes XL and up, and need items such as jeans, sweatpants, sweatshirts, hoodies, coats, hats, gloves, boots, shoes, socks, thermal long johns, underwear, sleeping bags, tents, tarps and propane heaters. These items may be dropped off at the church (2275 Platt), we have a collection bin in the lobby."

To donate food to the meal at Holy Trinity Student Parish in Ypsilanti, contact the chapel office at 734-482-1400.

The HIV/AIDS Resource Center will be giving out Thanksgiving baskets to its clients (those living with HIV) on Tuesday, Nov. 20. The center, 3075 Clark Road, Suite 203, Ypsilanti, is accepting additional donations for its clients during the holiday season. Contact: (734) 572-9355.

Catholic Social Services of Washtenaw County's Washtenaw Prisoner Reentry is seeking donations for Thanksgiving meal kits for its participants, including those who are homeless and living in transitional housing. The program has enough turkeys, but is seeking more of the "trimmings," such as stuffing, mashed potatoes and dessert. You can donate online at http://www.razoo.com/story/Washtenaw-Prisoner-Reentry-Turkey-Drive. The program helps individuals returning from prison transition into the community, providing resources like housing, food, employment skills and support, social integration opportunities and others. Contact: (734) 327-9717.
If you know of more events or ways to help out this holiday, feel free to email me or add that information in the comments.
Julie Baker can be reached at juliebaker@annarbor.com or at 734-623-2576. Follow her on Twitter @juliebakera2.